2018 Skipper Pin Promotions
This summer, show your Aquatennial spirit and get great deals downtown! The 2018 Skipper Pins sales will begin soon. Check back soon for updates.
Run the Life Time Torchlight 5K Get your run on and enjoy a post-race party along the Mississippi Riverfront!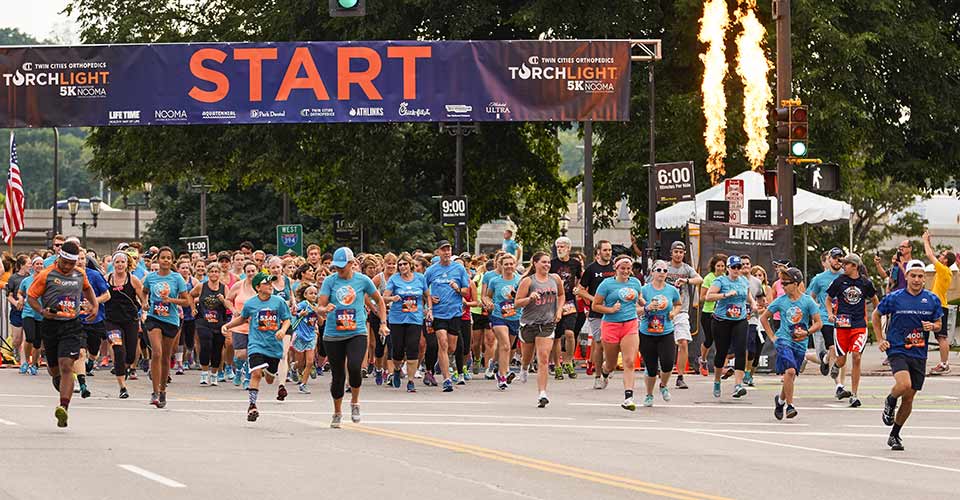 Whether you are a dedicated runner or just someone who jogs from the couch to the fridge, the Life Time Torchlight 5k is the fun run for everyone!
The Life Time Torchlight 5k starts near historic Basilica of Saint Mary and ends with a legendary post-race party featuring musical entertainment and refreshments.
For more information on the Life Time Torchlight 5k or to register, CLICK HERE.
Become a volunteer through the Aquatennial Volunteer Program sponsored by U.S. Bank
Each year the Aquatennial continues to thrive thanks to the hundreds of individuals that help out through the Aquatennial Volunteer Program Sponsored by U.S. Bank. This year, you can be part of all the fun! Don't miss out on being part of the Aquatennial Volunteer Program sponsored by U.S. Bank! Ask us about volunteer opportunities by sending us an inquiry (using the subject Volunteer Inquiry) and take part in events like the CenterPoint Energy Torchlight Parade, Target Fireworks and more. This annual program offers a chance for individuals or corporate groups to have fun while giving back to your community during Minneapolis' Official Civic Celebration. Perks include access to the premier viewing area at the Target Fireworks on Saturday, July 21, a t-shirt and more. The earlier you sign up, the more volunteer times and locations will be available for your team. For more information, email

[email protected]

.
Click below to sign up for volunteer time slots: