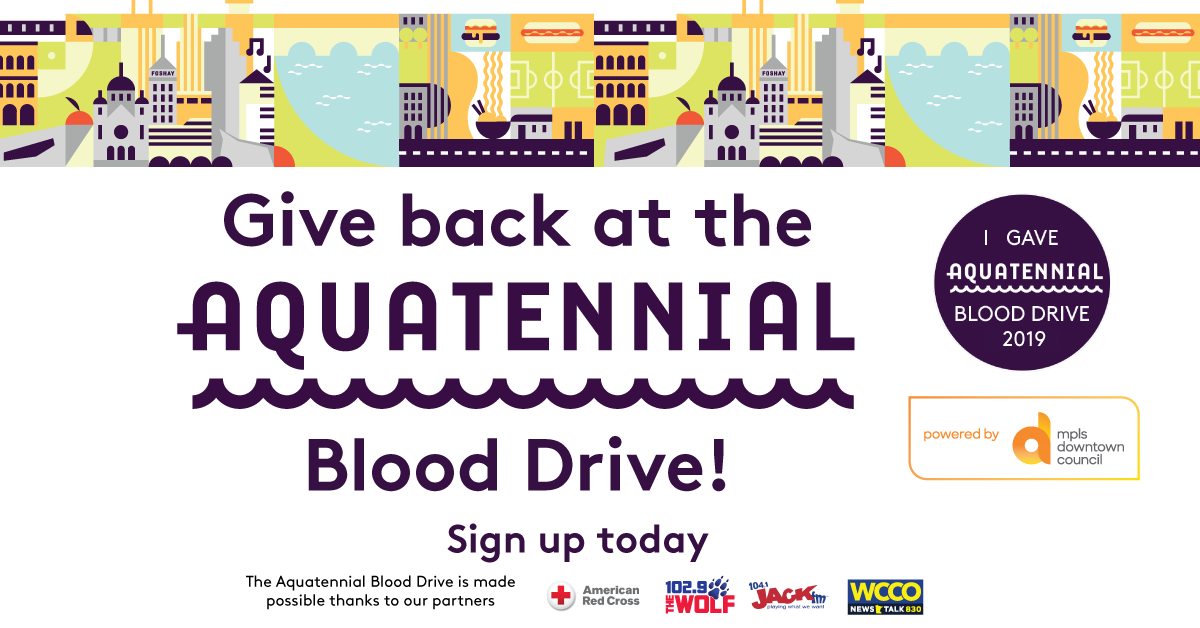 Save a life at Aquatennial—Give Blood!
Blood donations are in great need, and you can help save a life by giving blood with the American Red Cross at the Minneapolis Aquatennial. Our blood drive will take place Wednesday, July 24 (9 am-3 pm), Thursday, July 25 (9 am-2 pm) and Friday, July 26 (9 am-3 pm) at IDS Center Crystal Court. Sign up in advance through our online registration to secure your timeslot.
Run the Life Time Torchlight 5K
Get your run on and enjoy a post-race party along the Mississippi Riverfront!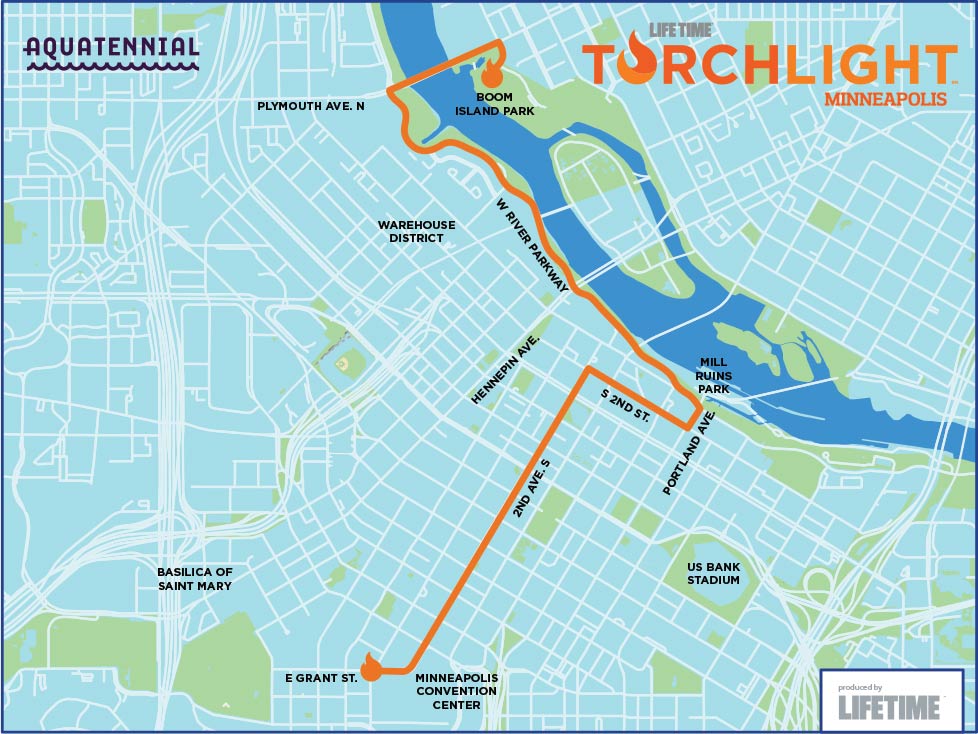 Whether you are a dedicated runner or just someone who jogs from the couch to the fridge, the Life Time Torchlight 5k is the fun run for everyone!
The Life Time Torchlight 5k has a new route in 2019. It will run through downtown from the Minneapolis Convention Center along 2nd Avenue, West River Parkway and ends at Boom Island with a legendary post-race party featuring musical entertainment and refreshments.
For more information on the Life Time Torchlight 5k or to register, CLICK HERE.
Become a volunteer through the Aquatennial Volunteer Program sponsored by U.S. Bank
Each year the Aquatennial continues to thrive thanks to the hundreds of individuals that help out through the Aquatennial Volunteer Program Sponsored by U.S. Bank. This year, you can be part of all the fun! Don't miss out on being part of the Aquatennial Volunteer Program sponsored by U.S. Bank! Ask us about volunteer opportunities by sending us an inquiry (using the subject Volunteer Inquiry) and take part in events like the CenterPoint Energy Torchlight Parade, Target Fireworks and more. This annual program offers a chance for individuals or corporate groups to have fun while giving back to your community during Minneapolis' Official Civic Celebration. Perks include access to the premier viewing area at the Target Fireworks on Saturday, July 27, a t-shirt, Skyline Specs sunglasses and more. The earlier you sign up, the more volunteer times and locations will be available for your team. For more information, email aquaintern@mplsdowntown.com.
Click below to sign up for volunteer time slots:

2019 Skipper Pin Promotions
Enjoy great perks around downtown Minneapolis with your 2019 Skipper Pin! You can purchase your 2019 Aquatennial Skipper Pins now by visiting www.aquatennial.com/shop and get great deals! Between July 1 and July 27, unless otherwise noted, your Skipper Pin will get you freebies and promotions from local businesses around downtown, including:
| Downtown Business | Promotion Available |
| --- | --- |
| Alchemy 365 | Show your pin to redeem two drop-in classes for the price of one! Bonus: First time at alchemy? Your entire first week is 100% free. Limit one BOGO per customer. |
| D'Amico and Sons Gaviidae | A pizza from our menu, two side Caesar salads, and two fountain sodas for $20. Available Monday through Friday 11am-3pm. |
| Finnegans Brew Co. | $2 off pints (Happy Hour pricing for anyone with a pin). |
| Fly Feet Running | $25 unlimited week. New Flyers Only. Must redeem by July 21st |
| Fulton Brewing Company | What's better than a refreshing Fulton beverage to celebrate Aquatennial with? How about two? Present your 2019 Skipper pin for a special Aquatennial BOGO deal in the Fulton Taproom. |
| Gluek's Restaurant | Buy-One-Get-One-Free Lunch (Valid 11am-3pm, not valid with other offers). |
| Hell's Kitchen | Buy-One-Get-One free tap beer, rail drink, or glass of house wine when you show your 2019 Skipper pin. |
| Lakes & Legends Brewing Company | Buy-One-Get-One offer to anyone who comes to the taproom wearing a Skipper pin. |
| Modist Brewing Co. | Free beer tomorrow. $2 off your first pint of any mainstay beer today. |
| Number 12 Cider | $2 off Number 12 Cider for anyone with a pin. |
| Parallel | Buy one 10 ounce drip coffee, get one free! |
| People's Organic (IDS Center) | $2 off any purchase of $10 or more. |
| Rosenthal Interiors | 1 hour introductory design consultation, hosted parking, and $250 gift card on purchases of $2,500 or more. Total value @ $400! |
| Sociable Cider Werks | $2 off pints for anyone with a pin |
| The Local | $5.00 Big and Skinny Gingers for anyone with a pin.td> |
| Walker Art Center | Two for one full-price admission. |
Thank you to our Aquatennial Skipper Pin Corporate Program Sponsors:
** 2019 Aquatennial Skipper Pin must be present to receive promotion. All offers valid July 1-July 27 unless otherwise noted. Exceptions/Restrictions may apply on some specials. Check with establishment for details.