Aquatennial Blog | Friday, July 21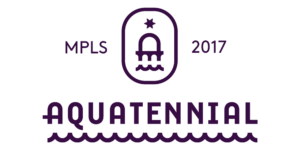 Welcome to the 2017 Aquatennial! This is our Official Civic Celebration, and we're excited to share it again with you here in Minneapolis for the 78th year. Join us on this fun four-day adventure that will include a combination of food, fitness and fun ranging from flagship events like the CenterPoint Energy Torchlight Parade to the Target Fireworks, all the way to new events like Candid Canines Film Festival and MN Made Market. There is something for everyone at this event.
So in order to fully appreciate all the events that are going on, we're giving you a daily breakdown of all the things you can see and do at the Aquatennial. Sit back and enjoy this recap as we take a look at some of the highlights from a big week in Downtown Minneapolis.
Friday, July 21st consisted of fun Aquatennial events throughout the entire day and night, including a second Aquatennial Twin Cities River Rats Show at 7 pm and free Outdoor Yoga with CorePower Yoga at The Commons.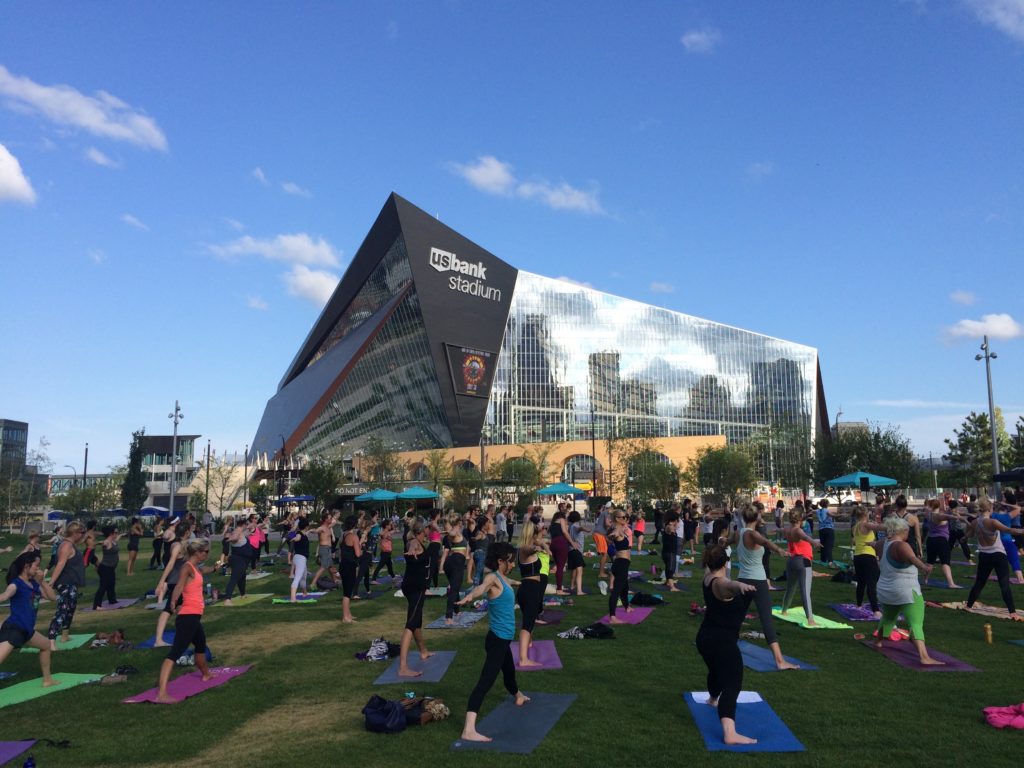 Aquatennial Yoga with CorePower Yoga
What a beautiful night it turned out to be for our outdoor yoga. With over 150 yogis coming out to participate at The Commons, Aquatennial Yoga was most definitely a hit again this year. CorePower Yoga led a C2 class that lasted from approximately 5:30-7:00 pm. It was a magnificent evening for great outdoor fitness and relaxation in the heart of downtown mpls. Thank you to everyone who came outside for this wonderful yoga event, we hope you enjoyed it. Namaste.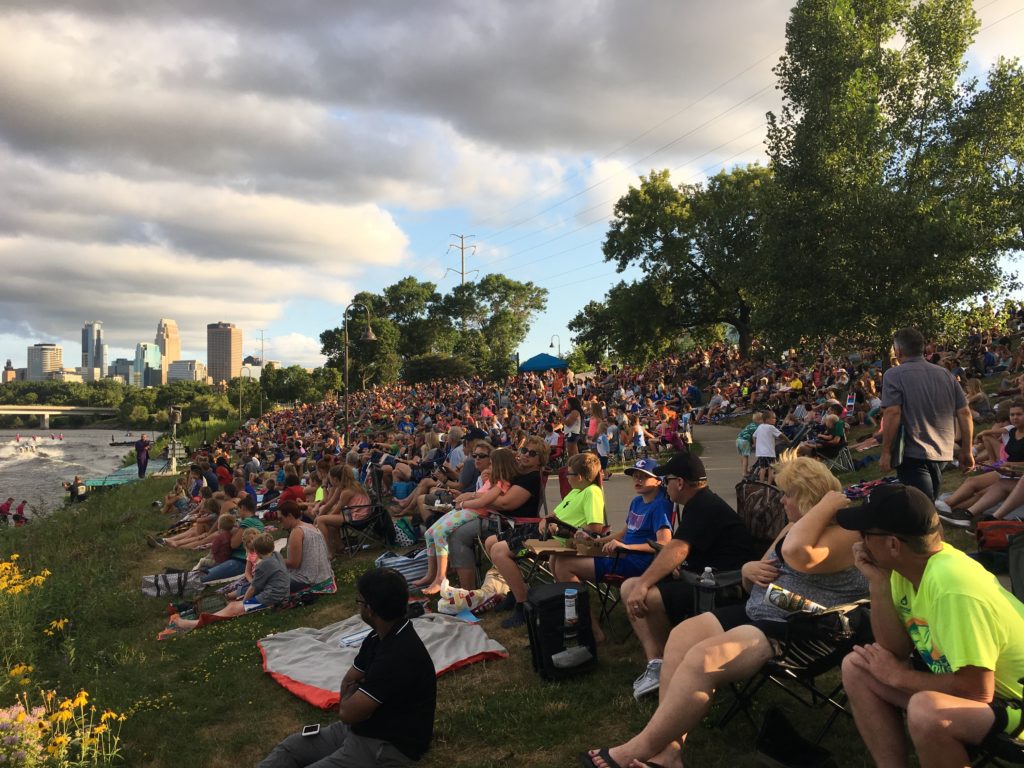 Twin Cities River Rats Water Ski Show
We had such a great time at the "Welcome To R.A.T.S. Academy" River Rats Water Ski Show last night! Featuring over 70 water-skiers, the Twin Cities River Rats once again did not disappoint. The show took place on the Mississippi River with huge crowds spectating from the riverfront near West River Parkway. The show included a ton of exciting stunts, huge jumps, and a 36 (!)  skier pyramid to end the show. Thanks to everybody who came and watched the show!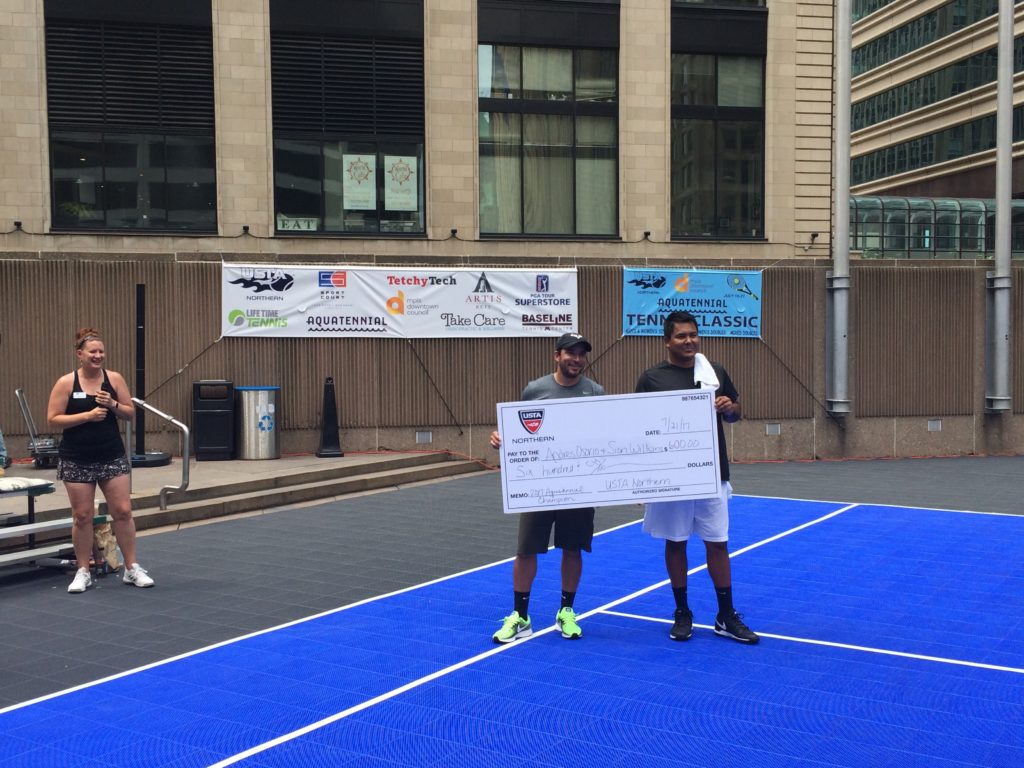 Aquatennial Tennis Classic
The USTA Aquatennial Tennis Classic concluded yesterday at Canadian Pacific Plaza. Champions were crowned in men's doubles, women's doubles, and mixed doubles on the final day of competition. The tournament featured some of the finest tennis players in the state of Minnesota. We thank USTA Northern for putting on this great event in downtown mpls and all players for participating!
Friday's Results:
"Top-seeded Osorio and Wilkins, who played doubles together at the University of Minnesota, handled former Gustavus Adolphus All-Americans Kevin Whipple and Nick Crossley 6-1, 6-1. In the women's event, the second seeded team of Flores Diaz and Szavay defeated former Gophers Julia Courter and Tasha Pintusava 7-5, 7-5. Flores Diaz currently plays at the University of West Florida, while Szavay plays at Northern Arizona. In mixed, Michigan sophomore Nick Beaty and Cal Berkeley sophomore Alexis Nelson won their first title together with a 6-3, 3-6, 1-0 (8) victory over the brother-sister pairing of Jessa Richards andJoey Richards. Jessa was an All-American at Augustana University in Sioux Falls, while Joey currently plays at Nebraska-Kearney." -USTA Northern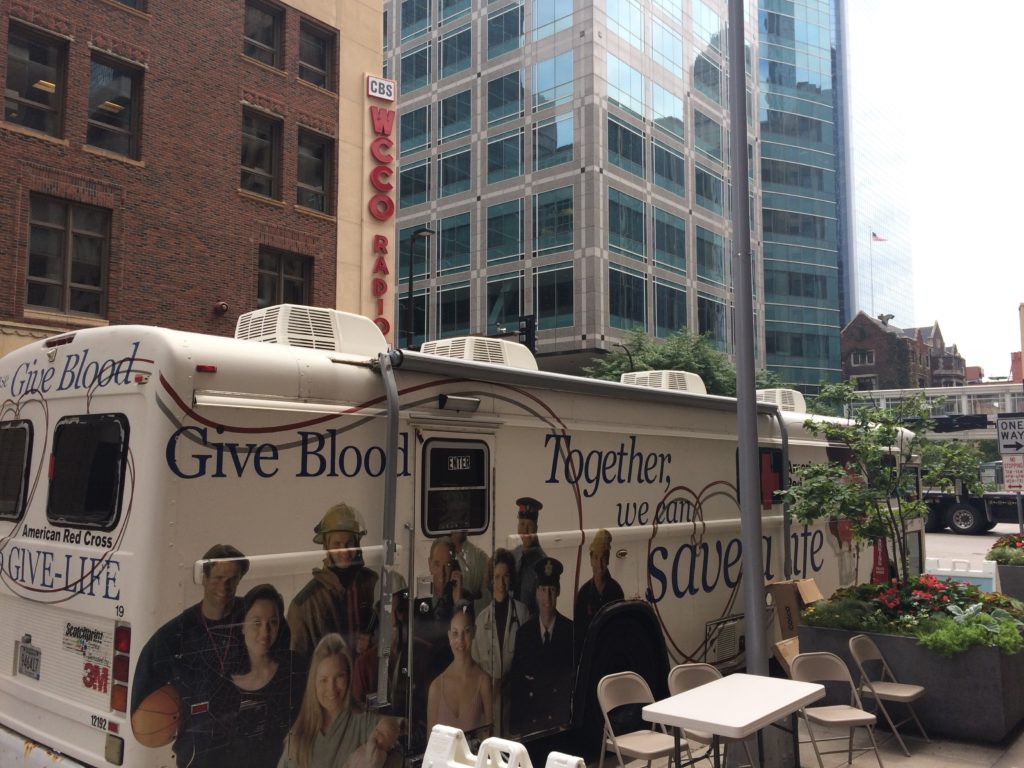 Aquatennial Blood Drive
The Aquatennial is all about bringing the community together and providing a way to give back to our community. That's why this year the Aquatennial teamed with the American Red Cross, WCCO-TV, WCCO Radio, BUZ'N 102.9 and 104.1 JACK FM to host the Aquatennial Blood Drive this week. It concluded yesterday at CBS Radio. Thank you to everyone who donated at the Aquatennial Blood Drive this week. Your donation helped save a life!