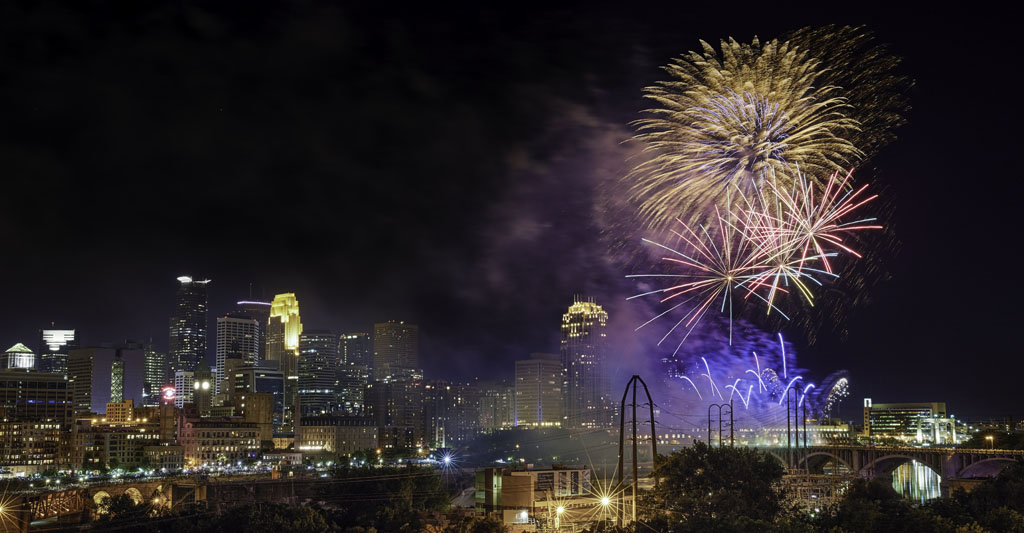 We can't wait to see you this year at the Target Fireworks! Join us Saturday, July 22, 2023 and enjoy one of the top five annual fireworks displays in the country. The fireworks begin at 10 pm. The Target Fireworks are a fully choreographed pyro-musical that times each firework pop to the beat of its soundtrack all the way down to 1/100th of a second. Enjoy this spectacular event along the Mississippi Riverfront on West River Parkway near Portland Avenue.
Make it an evening at the Target Fireworks!
Join us for a fun evening along the Mississippi Riverfront at West River Parkway. Get there early and find your spot, and while you're there enjoy great live music, food trucks, craft brews, non-alcoholic beverages, shopping with great small local businesses, AquaJam skateboarding and more.
Parking
We are excited for you to join us at the Target Fireworks. Recommended parking for the event includes:
Barrell House (111 3rd Avenue South) – Premier Parking Partner
Gateway Parking Ramp (400 S. 3rd Avenue)
Mills Fleet Farm Parking Garage (740 S. 4th Street)
Jerry Haaf Memorial Ramp (424 S. 4th Street)
West Bank Office Building Ramp (1300 13th Ave. S.)
Street parking along Washington Avenue
Target Fireworks Fast Facts
Typically uses more than 10,000 pounds of fireworks
The Choreography process for the Target Fireworks takes anywhere from 2 to 4 hours of design time per minute of total show duration
One of the top five largest fireworks show in the country
Draws around 250,000 spectators to Downtown Minneapolis
Come early to find a spot along the river—bring sunscreen for the afternoon and bug spray for the evening. It's worth it to see a fantastic show!
One of the best vantage points to take in the show is on the west side of the Mississippi River, along West River Parkway near Portland Avenue.
Zambelli Fireworks is a full service fireworks display and pyrotechnics company.
Since 1893 Zambelli Fireworks has been shooting over 2,300 displays annually