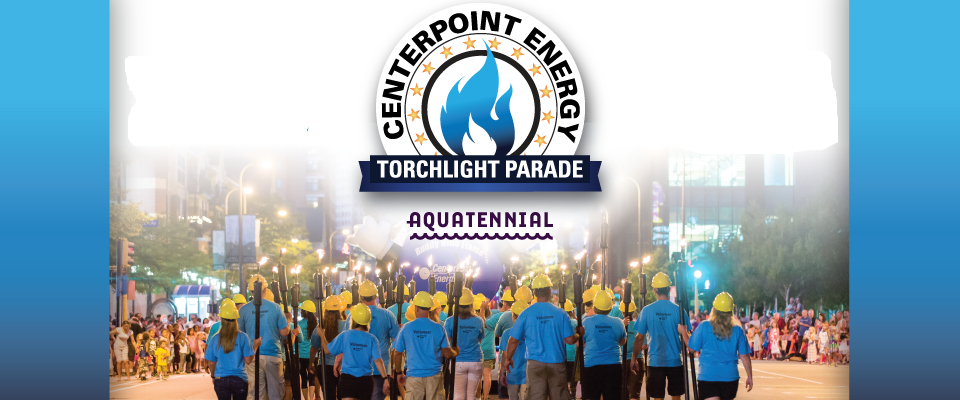 Join us for the Aquatennial's CenterPoint Energy Torchlight Parade, set to take place Wednesday, July 22, 2020 at 8:30 p.m. Join the community as they gather and watch great floats, displays and bands march through the heart of Downtown Minneapolis beginning at the Minneapolis Convention Center down 2nd Avenue to 3rd Street. Come down and celebrate on July 22!
If you have any questions about this year's parade, email aquatennial@mplsdowntown.com.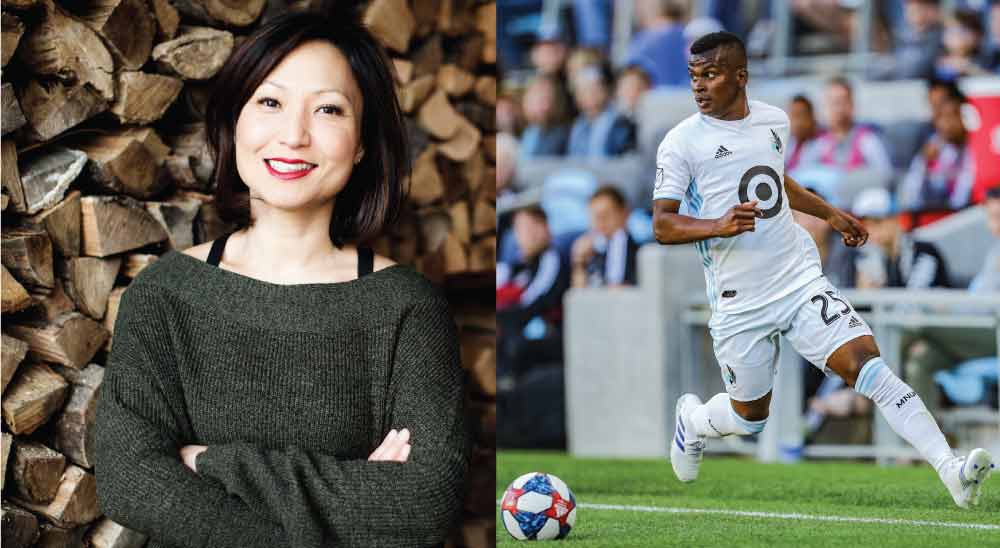 THANK YOU TO OUR 2019 CENTERPOINT ENERGY TORCHLIGHT PARADE GRAND MARSHALS: JAMES BEARD WINNER ANN KIM AND MNUFC'S DARWIN QUINTERO!
The Aquatennial had a fantastic time with James Beard Award winner Ann Kim and Minnesota United FC's Darwin Quintero as our 2019 CenterPoint Torchlight Parade Grand Marshals!
As part of our 80th year, Aquatennial celebrated some of our community's best stories of 2019 throughout its four days. Kim represents our local culinary excellence through the success of her local restaurants and her 2019 James Beard Award, while Quintero embodies the energy and vibe of the Loons and their newly-opened Allianz Field.
Kim and her restaurants are revered and nationally-recognized. Most recently, in 2019, she received the James Beard Award for "Best Chef Midwest." Young Joni was named the 2017 Best New Restaurant in America by GQ and Eater, and the Minneapolis Star Tribune named Young Joni its 2017 Restaurant of the Year.
A Korean immigrant, she credits her culinary palate to helping her mother and grandmother at an early age make traditional staples such as fermented bean paste and kimchi. She graduated with a Bachelor of Arts in English from New York's Columbia University, where her sustenance often came in the form of a daily cheese pizza slice from a fair number of corner pizza shops. These formative pizza-eating years laid the foundation for her dream to someday bring great pizza to Minnesota, and her years as a freelance actor fostered her value of creativity, the art of the hustle and storytelling.
Quintero boasts immense speed and intelligence with the ball at his feet. A Tumaco, Colombia, native, Quintero joined Minnesota United FC in March 2018 as the club's first Designated Player. Quintero made an immediate impact for Minnesota, scoring a goal in his first appearance on April 14 against the Portland Timbers. In July, he scored six goals and provided six assist in six games, one of the best single months in league history. Quintero had a seven-game point streak in August and closed out the season with a team-leading 11 goals and team record 15 assists. He began his professional career with Deportes Tolima in his native country in 2005 and has played internationally with the Colombia national team as well as for teams based in Colombia and Mexico.
ABOUT THE CENTERPOINT ENERGY TORCHLIGHT PARADE
The Minneapolis Aquatennial CenterPoint Energy Torchlight Parade has been a longstanding Aquatennial tradition. As a flagship Aquatennial event, the parade continues to grow. The CenterPoint Energy Torchlight Parade is the largest nighttime parade in Minnesota. We're excited to see you at this year's event!
THANK YOU TO OUR 2019 EMCEES: K102's CHRIS CARR and COMPANY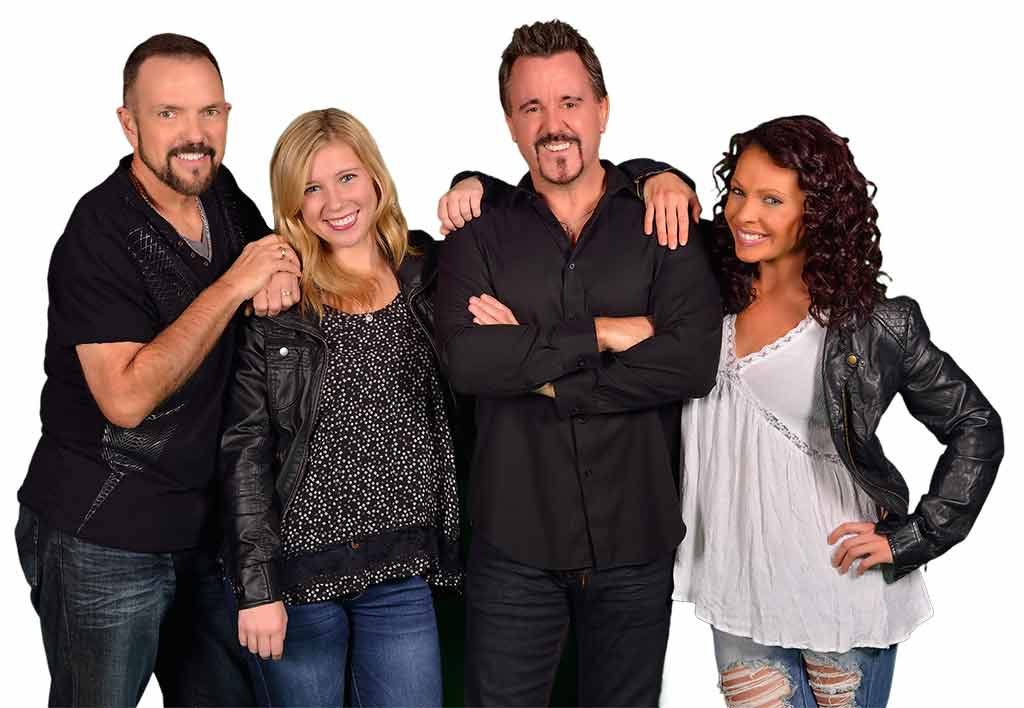 We had a blast with K102's Chris Carr and Company morning show emceeing the CenterPoint Energy Torchlight Parade! Thank you to Chris, Kia, McKaila and Maverick!
About the team:
Chris
Chris was the afternoon drive on K102 in Minneapolis until he moved to Cincinnati's WUBE-FM and eventually created Chris Carr & Co with co-host, Jeff "Maverick" Bolen. Now he's come back to K102 to be close to family again and says he will be picking up right where he left off six years ago. Maverick has returned to Minnesota with Chris to continue the Chris Carr & Co. success.
Kia
Kia is a Co-Host with Chris Carr and Company and Music Director at K102. Minnesota born and raised, Kia wears sundresses, ripped jeans and always a pair of cowboy boots. She loves camping, fishing, and country music. Kia doesn't understand the separation between work and play. K102 has been her home since she began in 2009 in Promotions and quickly grew her career.
McKaila
McKaila is the newest member of Chris Carr & Company. Along with doing everything digital, McKaila has stepped up to become the show's producer. She is the resident Millennial of the show, and she doesn't hesitate to say whatever comes to her mind. You can always find her out and about trying something new!
Maverick
The light-hearted co-host of The Chris Carr and Company Show for 9+ years with 23+ years in country music radio. Maverick is known for having one of the most infectious laughs in radio that causes the audience to laugh along even when they may have missed what he's laughing at. Maverick is known for his well-loved segments "Minny News", "Only in Minnesota" and "Redneck Traffic Report."
HOW TO GET HERE
Join us for the CenterPoint Energy Torchlight Parade in downtown Minneapolis!
Parking garages are located within a short walking distance of 2nd Avenue, including along Marquette Avenue, Nicollet and side streets. Note that all parking ramp entrances/exits onto 2nd Avenue will be closed from 7-11 pm on July 24. All ramp entrances/exits onto one-way cross streets will either have full access crossing 2nd Avenue (11th, 10th, 6th and 5th streets) or two-way traffic will be implemented (12th, 9th, 8th, 7th, 4th streets). Metro Transit services the area through Light Rail Transit (Green Line to and from St. Paul, Blue Line to and from MSP International Airport/Mall of America) as well as bus routes connecting across the metro area.
WHILE YOU'RE HERE
Stop by the Loring Park Pre-Parade Family Fun Night (including Rally the Family and Wilderness Inquiry Voyageur Canoe Rides) from 6-8:30 pm, watch or run the Life Time Torchlight 5K at 7:30 pm.
Don't miss out on food trucks located between 9th and 10th streets, piano performances at 7th and 9th streets, activities and games for all ages at Capella Tower plaza and U.S. Bank Plaza, and more. Bring your water bottles as Tap Minneapolis will provide water stations at 3rd Street, between 5th and 6th Street, and at 11th Street.
Stay healthy at Aquatennial thanks to hand sanitizers provided by University of Minnesota Physicians all along the parade route.
Take a look at last year's CenterPoint Energy Torchlight Parade map below. The 2020 map is coming soon (click to enlarge).