Nostalgia, Intricate Detail & Surprise Part Of Aquatennial Target Fireworks
The top 5 annual display took 140 Man Hours To Design & Choreograph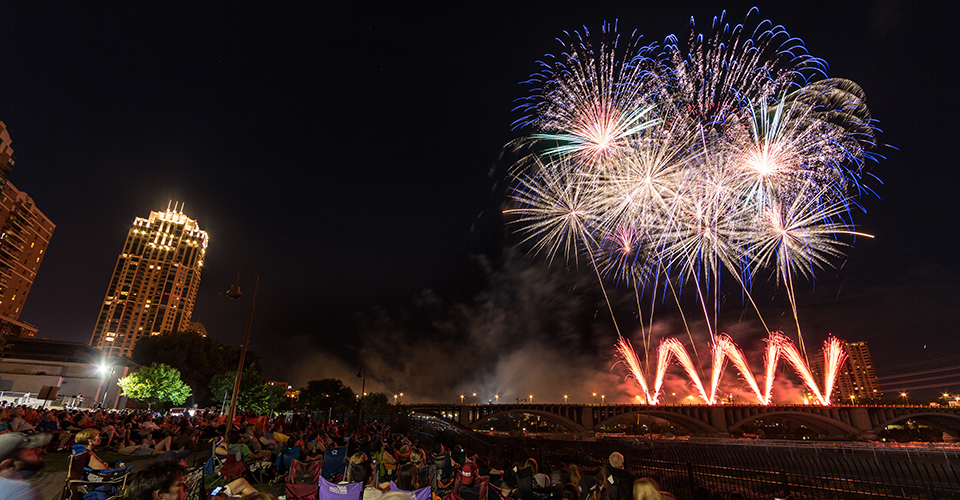 Zach Taminosian has been around fireworks all his life—from his days growing up in Fort Myers, Fla., setting them off in the back yard to his profession as one of Zambelli Fireworks' show designers. But for all the thousands of hours he's been around them in his life, he can pinpoint the moment he fell in love with fireworks and knew it was what he wanted to do for a career.
It was in Fort Myers, at the Minnesota Twins' brand new spring training facility in 1991. The display put on to help christen the new facility left an imprint on him as a child, and it never went away.

"The fireworks that went along with the celebration really sparked my first interest in professional fireworks displays," he said. "I loved fireworks growing up, but that was the first time I was intrigued with a choreographed show to music. And it ultimately led me back to Minnesota."
Taminosian is annually the designer for the Minneapolis Aquatennial's Target Fireworks, which take place tonight at 10 pm along the Mississippi River. The event is considered one of the top five annual fireworks displays in the country, and rightfully so. It attracts approximately 250,000 people to the Mississippi Riverfront near the Stone Arch Bridge, and the picturesque view of the Minneapolis skyline is the perfect backdrop for a nationally renowned show.
Each year, he said he directly works on more than 30 fireworks displays nationally and approximately another 200 shows indirectly through logistics, design and product ordering. But the Target Fireworks at Aquatennial always stand out.
It's a pyromusical, if you will. The fireworks, which typically last 20-25 minutes, are a spectacle on their own. But they're intricately choreographed to music, each blast matching with a note or a beat within the song playing. It takes Zambelli 2-4 hours of design time per minute of show duration to carefully match up the blasts with the beat, and that's what makes this show extra special. This year's music is 1980s themed as Aquatennial celebrates its 80th anniversary.
You can hear the music on-site as you're watching, but if you are within view of the fireworks from another location you can listen to the simulcast on KOOL 108 FM.
The time and effort put into making this fireworks show special is personal for Taminosian, who thinks back to that display in Fort Myers 25 years ago when he arrives in town. This is a nostalgic display for him personally, but he also understands the importance the Target Fireworks play for Minneapolis and Aquatennial goers.
"This is one of my favorite shows," Taminosian said. "I love Minneapolis. I love coming here every year. Just the backdrop, the downtown Minneapolis cityscape, and the bridge architecture is just an amazing canvas for me to paint."
It's always recommended that people come early and enjoy the festivities while saving a spot along West River Parkway. Viewing areas fill up fast. While you're waiting, enjoy pre-fireworks festivities from 6-10 pm including live music, food trucks, and the Family Fun Zone presented by Tom's of Maine.
And of course, there is a major fireworks display that's worth the wait.
"This show is designed with the audience in mind," Taminosian said.
Target Fireworks Fast Facts
Typically uses more than 10,000 pounds of explosives
The Choreography process for the Target Fireworks takes anywhere from 2 to 4 hours of design time per minute of total show duration
This year's Target Fireworks took 140 man hours of design, choreography and set-up to perform.
One of the top five largest fireworks show in the country
Draws around 250,000 spectators to Downtown Minneapolis
Come early to find a spot along the river—bring sunscreen for the afternoon and bug spray for the evening. It's worth it to see a fantastic show!
One of the best vantage points to take in the show is on the west side of the Mississippi River, along West River Parkway near Portland Avenue.
Zambelli Fireworks is a full service fireworks display and pyrotechnics company.
Since 1893 Zambelli Fireworks has been shooting over 2,300 displays annually