Aquatennial Blog | Friday, July 22

Welcome to the 2016 Aquatennial! This is our Official Civic Celebration, and we're excited to share it again with you here in Minneapolis for the 77th year. Join us on this fun four-day adventures that will include a combination of food, fitness and fun ranging from flagship events like the CenterPoint Energy Torchlight Parade to the Target Fireworks all the way to new events like Mess Hall, AquaJam and the Big Waters Classic: Fulton Downtown Drag Race. There is something for everyone at this event.
So in order to fully appreciate all the events that are going on, we're giving you a daily breakdown of all the things you can see and do at the Aquatennial. Sit back and enjoy this recap as we take a look at some of the highlights from a big week in Downtown Minneapolis.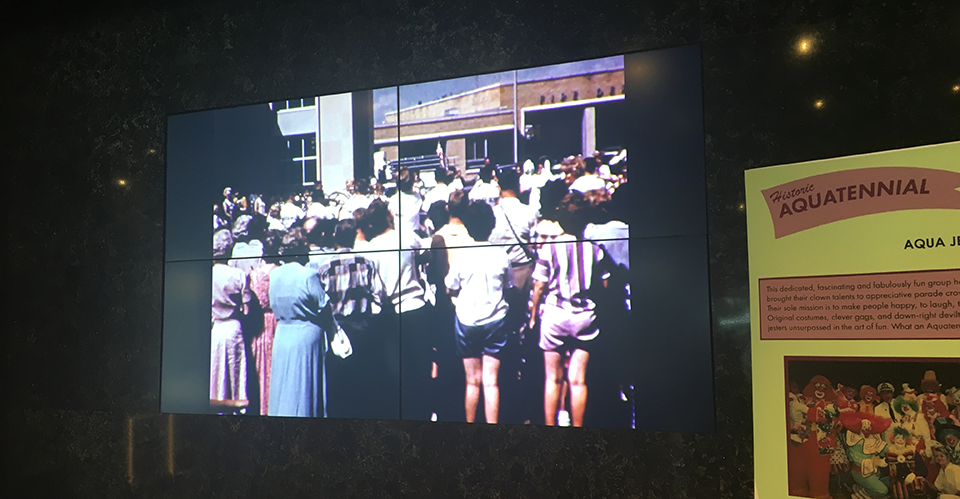 Historic Aquatennial Presented By Cambria
Now in its second year in the Aquatennial lineup, the Historic Aquatennial presented by Cambria is a great way to relive some of the past experiences and looks of the Minneapolis Aquatennial. This event, located in the Cambria on 7th Gallery at 625 2nd Avenue South, highlights some of the sights and sounds of Aquatennial over the past seven decades. We've seen a great response to this event as there are many in the state who enjoy taking a look back at what they experienced at Aquatennial in the past throughout its evolution. There are great photos, videos, apparel and costumes, decorations, poster boards with historical context stories, a full Skipper Pin collection, guides and more. This particular event runs through Saturday at Cambria, so come in any day and enjoy.

Aquatennial Blood Drive
The Aquatennial is all about bringing the community together and providing a way to give back to our community. That's why this year the Aquatennial teamed with the American Red Cross, WCCO-TV, WCCO Radio, BUZ'N 102.9 and 104.1 JACK FM to host the Aquatennial Blood Drive this week. It runs Wednesday through Friday from 9 am to 3 pm in the IDS Center Crystal Court.
Donating Blood is important in helping those in need, as the Red Cross—which supplies blood to 2,600 hospitals and transfusion centers across the country—needs 14,000 blood donations each day to keep pace. Right now, there is a major shortage of blood as donations are being used as quickly as they come in. Vacations and summer plans often play a role in keeping people from donating, so any help you can provide is much appreciated.
The Aquatennial Blood Drive continued on Friday, with WCCO-TV's Ali Lucia stopping in during the morning. It wrapped up at 3 pm on Friday, and overall there was a great turnout of people in the community showing up to save a life and helping out our community. Thanks to all who donated their time toward this great cause.
Aquatennial Tennis Classic
The Aquatennial Tennis Classic is an annual gathering of some of the top talent in the area vying for $6,500 in prize money. Supported by USTA Northern, they host men's and women's singles, men's doubles, women's doubles and mixed doubles each year. The event is incredibly popular in the summer. Located at Canadian Pacific Plaza, a court is placed outdoors underneath the surrounding skyscrapers and provides a great place to watch tennis while eating your lunch. Food trucks line the nearby street, and a natural tiered gallery area makes for stadium seating while you take your lunch break.
The tournament began July 11 and ran through Friday. On the first official day of Aquatennial, the tournament was wrapping up its matchups. Results from the day are listed below.
Finals Results
Women's Singles Championship: Maja Vujic def. Caitlyn Merzbacher 7-5, 5-7, 1-0 (6)
Men's Singles Championship: Tony Larson def. Tim Larson 6-3, 6-0
Mixed Doubles Championship: Nicole Copeland/Kevin Whipple def. Tooli Wilkins/Nazhone Wilkins 2-6, 7-6 (6), 1-0 (6)
Women's Doubles Championship: Tooli Wilkins/Kelsey Frechette def. Diana Bukajeva/Brenna Kelly 7-5, 7-6(2)
Men's Doubles Championship: Julian Dehn/Tobias Wernet def. Andres Osorio/Sion Wilkins 6-1, 6-3

Aquatennial Zumba presented by Zumba
The Minneapolis Aquatennial has a goal of providing food, fitness and fun to all who stop down to enjoy our 30 events over these four days in July, and on Friday one of these fitness events included Aquatennial Zumba presented by YWCA of Minneapolis at Peavey Plaza. Friday was an incredibly hot afternoon—as it was all week—but people in our downtown community still came together and participated in the Zumba class despite the heat. Zumba is a workout that features dance routines that focuses on upping your fitness through fast and slow rhythms, energizing Latin and World music beats and all the latest choreography. It offers a chance to tone and sculpt your body in a party atmosphere. Thanks to all who came out to participate in Zumba during Aquatennial, and thanks to the YWCA for providing an opportunity to try out a free Zumba class at Peavey Plaza.

Twin Cities River Rats
The Twin Cities River Rats returned for two more shows on Friday and delivered another pair of memorable and entertaining displays on the Mississippi River. The River Rats are an annual Aquatennial staple, and they delivered four shows in two days culminating with Friday's 6 pm and 8 pm performances on West River Road between the Plymouth and Broadway bridges. This year's theme was Despicable Ski, the River Rats' version of Despicable Me, and they showcased a sensational performance on the water as Gru and the Minion battled Vector for super villain supremacy. It was filled with laughs—as usual—and a fun and family-friendly storyline, but it also was jam packed with difficult tricks on the water. This group wins national waterskiing awards because they are so good at performing high-flying stunts, including multi-level human pyramids, fast-paced barefooting, graceful swivel skiing and more. The crowds flocked to West River Road for both performances, and this year along with a concession stand they also had Fulton Beer on hand with a designated beer garden. It's always a great event for the whole family, and this year's crew did a sensational job. Thanks to the Twin Cities River Rats for another well-done performance.

Big Waters Classic: Fulton Downtown Drag Race
One of the new events at Aquatennial this year is the Big Waters Classic: Fulton Downtown Drag Race. I featured a 350-meter drag race through the North Loop up 4th Street. The race itself included an incline up to the finish line and several groups including a junior class, Nice Rides, Fixed Bikes and Open races. Heats began around 7 pm and continued at a fast pace through the 9 pm hour. A great crowd gathered along 4th Street to watch the action, which featured a collection of close races that were near-photo finishes. Plus, there were fun bike "tractor pull" events throughout the night where people could showcase how far they could pull weighted trailers behind them. Then, following the race, you could head around the corner to Fulton Beer's tap house to continue the party. Thanks to all who participated in the Fulton Downtown Drag Race and to Fulton Beer for helping put on this great new biking event at Aquatennial.

Aquatennial Movie Night: Rocky
The evening capped off with another Aquatennial movie featuring Rocky. There was a great crowd on hand for this one, which began at 9 pm, as people came to Target Field Station, found their seat on the grass and watch Rocky Balboa shock the world by going the distance with Apollo Creed. This movie was part of the Go Outside with Hennepin County series, and it once again brought people together for a unique movie experience watching on the big screen outdoors right next to Target Field.