Aquatennial Blog | Saturday, July 22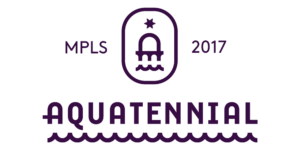 Welcome to the 2017 Aquatennial! This is our Official Civic Celebration, and we're excited to share it again with you here in Minneapolis for the 78th year. Join us on this fun four-day adventure that will include a combination of food, fitness and fun ranging from flagship events like the CenterPoint Energy Torchlight Parade to the Target Fireworks, all the way to new events like Candid Canines Film Festival and MN Made Market. There is something for everyone at this event.
So in order to fully appreciate all the events that are going on, we're giving you a daily breakdown of all the things you can see and do at the Aquatennial. Sit back and enjoy this recap as we take a look at some of the highlights from a big week in Downtown Minneapolis.
We closed out the 2017 Aquatennial with a BANG on Saturday, concluding the four-day festival with Target Fireworks. Leading up to fireworks, we had a great day of fun things to do in downtown Mpls, including AquaJam, Pre-Firework festivities, and more!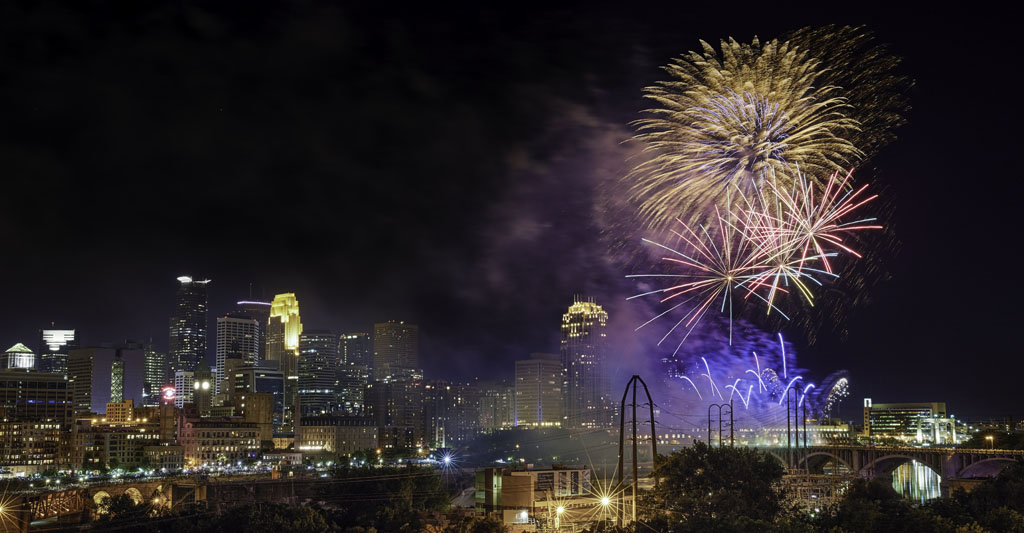 Target Fireworks
The grand finale (as always) at Aquatennial is the beloved Target Fireworks, considered one of the top 5 annual displays in the country. The evening always kicks off with the Pre-Fireworks Festivities from 6-10 pm, and this year it included four bands performing consecutively including Heart & Soul Drum Academy, theStone Arch Isles, the Great Lakes Navy Band, and The Grateful RED—an always-popular group of Target employees who play an incredible Big Band set. There were food trucks and treats along West River Parkway. There was also a ramped-up kids zone near the Stone Arch Bridge featuring a mini-water slide, a Keys 4/4 Kids 'Paint a Piano', a Crayola Experience, face painting/Henna Tattoos, a Timberwolves/Lynx booth, a Gopher Athletics booth, and more.
Then, at 10 pm, the Target Fireworks kicked off from the 3rd Avenue Bridge with perhaps its best version yet. The 20+ minute show It was intricately set to music, and the 'pyromusical' was simulcast on Go 95.3 FM (due to the Twins game going long—it was scheduled to be simulcast on Go 96.3 FM). The display featured odes to Weezer, Coldplay, and others. This year's Target Fireworks also had a tribute to Prince with "Little Red Corvette." The 2017 grand finale could be dubbed as one of the best Target Fireworks conclusions ever. This installment of the Target Fireworks was definitely not one to miss out on.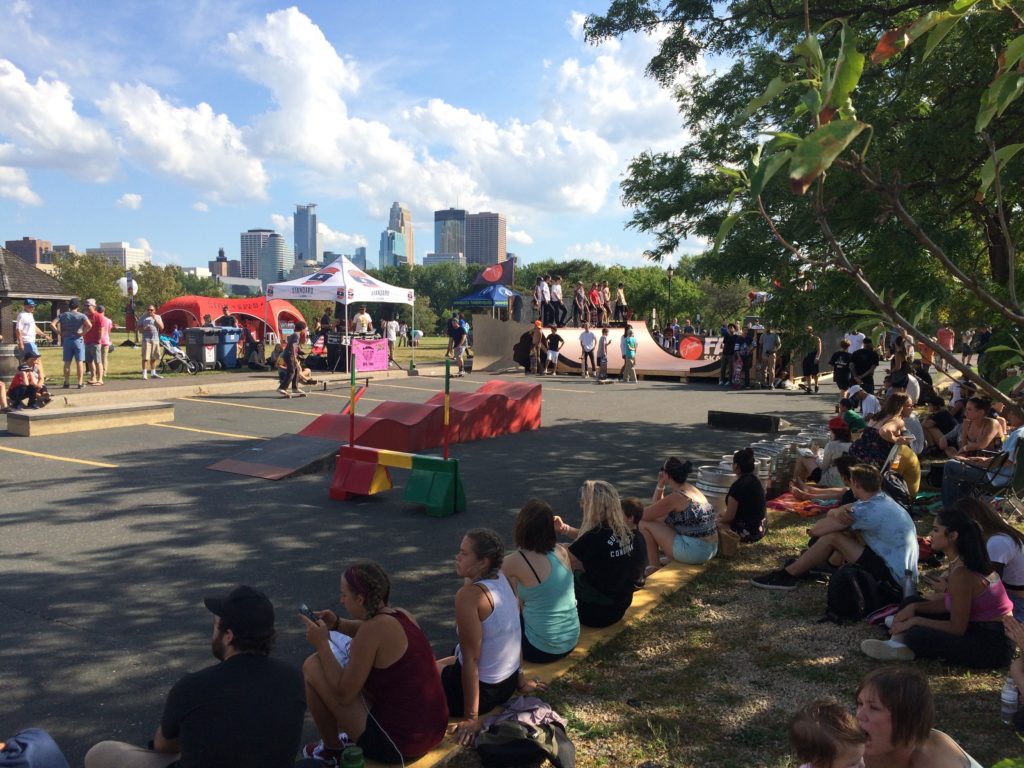 AquaJam
AquaJam was popular in the 1980s, and thanks to Fulton Beer and Familia Skateshop, it once again was a success in its second returning year in 2017. The event taking place at Boom Island featured a mini-ramp, a Skate your State ramp, rails, barrel jumps and more. AquaJam also featured a variety of food trucks and beverages. It was packed along the course as people watched talented local skaters, both young and old, try out different tricks. Cash prizes were handed out based on judges' discretion of how difficult the trick was, and there was even a barrel-jumping competition where the winner cleared 11 barrels in a jump. This event was truly a one-of-a-kind experience for everyone involved.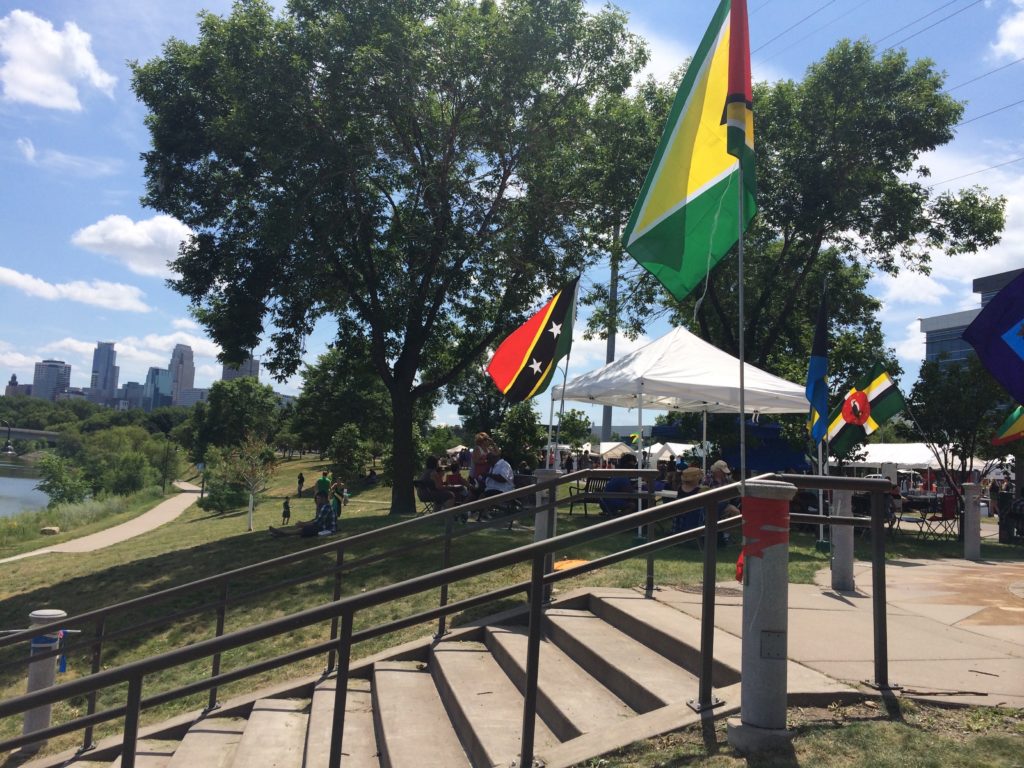 Twin Cities Carifest
Twin Cities Carifest has been an annual staple of summer in Minneapolis for the past two decades, and it continued this year during Aquatennial on West River Road between the Plymouth and Broadway bridges. This event features Caribbean art, food, crafts, music and a traditional carnival parade with colorful costumes and dance. If you've never been before, it has really delicious items to try out. Plus, it is just across the Plymouth Bridge from AquaJam and just a mile and a half from the Target Fireworks preferred viewing area.