Aquatennial Blog | Thursday, July 20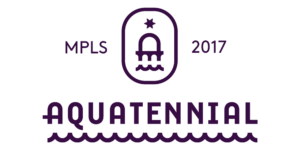 Welcome to the 2017 Aquatennial! This is our Official Civic Celebration, and we're excited to share it again with you here in Minneapolis for the 78th year. Join us on this fun four-day adventure that will include a combination of food, fitness and fun ranging from flagship events like the CenterPoint Energy Torchlight Parade to the Target Fireworks, all the way to new events like Candid Canines Film Festival and MN Made Market. There is something for everyone at this event.
So in order to fully appreciate all the events that are going on, we're giving you a daily breakdown of all the things you can see and do at the Aquatennial. Sit back and enjoy this recap as we take a look at some of the highlights from a big week in Downtown Minneapolis.
Thursday, July 20th was an awesome day in downtown Minneapolis! Two brand new Aquatennial events made their debut! The first ever Candid Canines Film Fest took place at Target Field Station, and the MN Made Market debuted at JB Hudson Jewelers.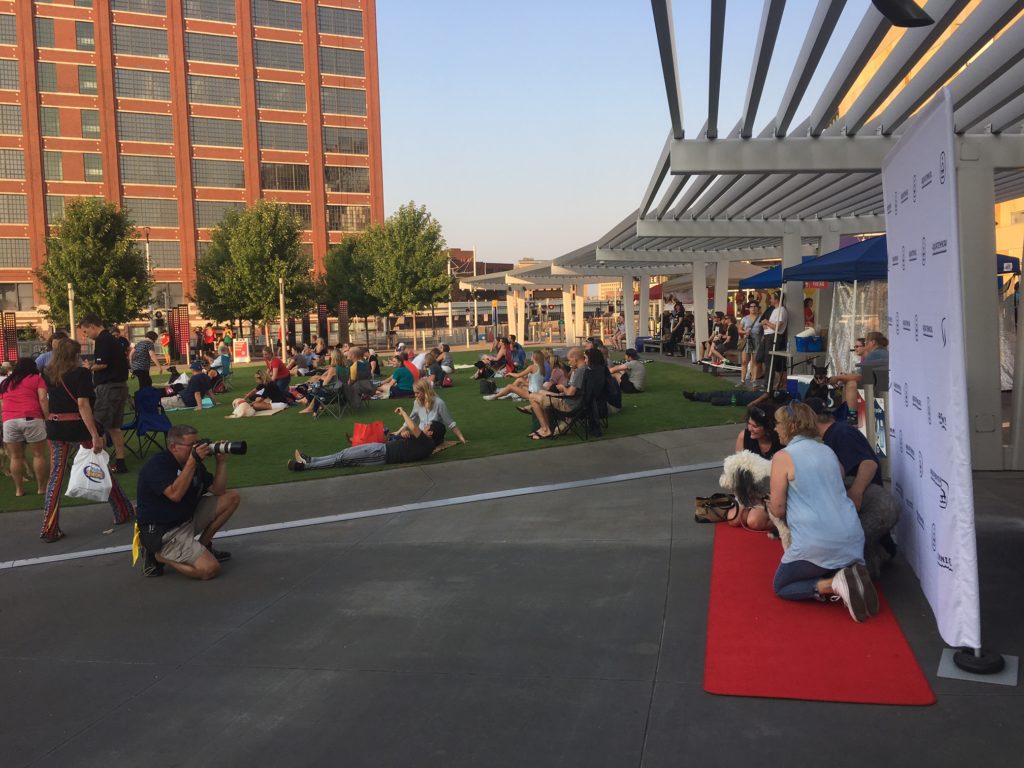 Candid Canines Film Festival
Our first ever Candid Canines Film Festival was wonderful! Target Field Station was full of dogs and their owners all night long! The 30 minute long film celebrating our favorite pets showed at 4:30, 5:30, 6:30, 7:30, & 8:30 pm. In between the showtimes, dogs visited a "pupperazzi" step-and-repeat red carpet area, which was a roaring success among the stars of the night.
Thanks to Can Do Canines for creating the film and helping put on this fantastic event. We'd also like to thank everyone and their dogs for coming out last night, we had so much fun!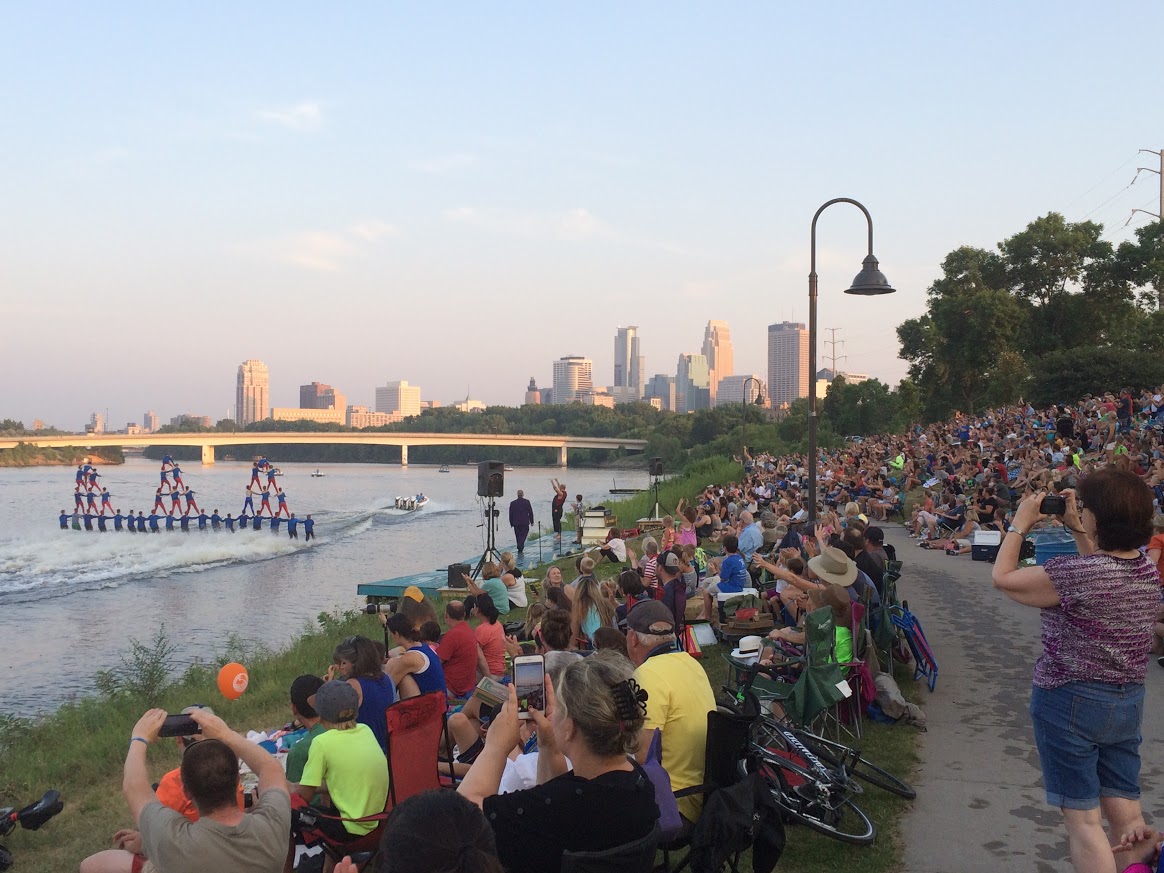 Twin Cities River Rats Water Ski Show
We had such a great time at the "Welcome To R.A.T.S. Academy" River Rats Water Ski Show last night! Featuring over 70 water-skiers, the Twin Cities River Rats did not disappoint. The show took place on the Mississippi River with huge crowds spectating from the riverfront near West River Parkway. The show included a ton of exciting stunts, huge jumps, and a 36 (!)  skier pyramid to end the show. Thanks to everybody who came and watched the show! The Rats are back again tonight at 7 pm for another Aquatennial show. We'll see you there!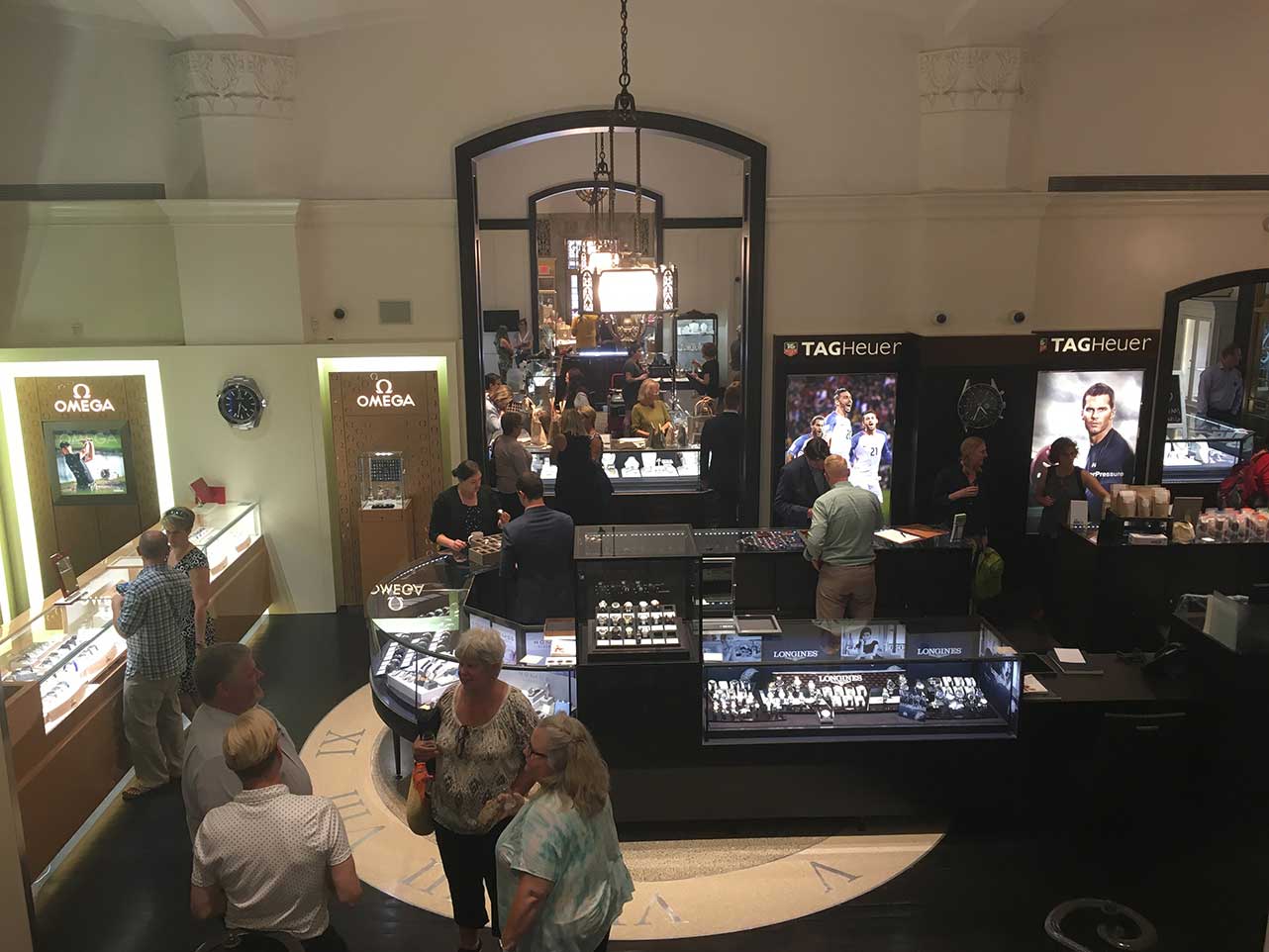 MN Made Market
Another first-time event took place yesterday, the MN Made Market! This great new event celebrated MN makers and was hosted by JB Hudson Jewelers at their historic downtown Minneapolis location. We had a wonderful time sampling various local craft brews, exploring many local vendors and merchants, and a lot more! Lakes & Legends Brewing Company even brought a very special "Rhu-berry Farmhouse Ale" micro-brew, made especially for Aquatennial and this event! Thanks to all makers, merchants, & vendors who took part in making this brand new Aquatennial event so great!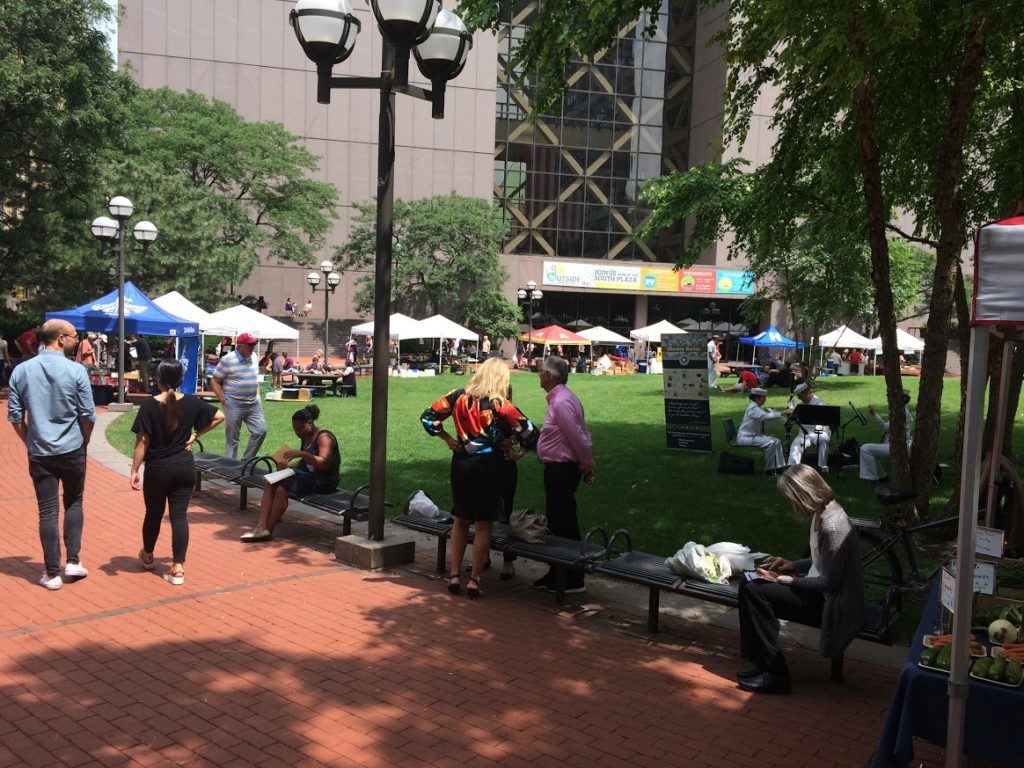 Mpls Downtown Farmers Market at South Plaza
We had a wonderful time at Hennepin County Government Center South Plaza for yesterday's Downtown Farmers Market! Local growers and vendors began arriving around 6 am and were there throughout the entirety of the day until approximately 6 pm. Honest Tea was present with their "Honest Challenge" to see how Honest Minneapolis truly is. In addition to various booths with locally grown veggies and other products, there was also live music from the Great Lakes Navy Band Woodwind Trio over the lunch hours of the day. The weather was gorgeous for this great event!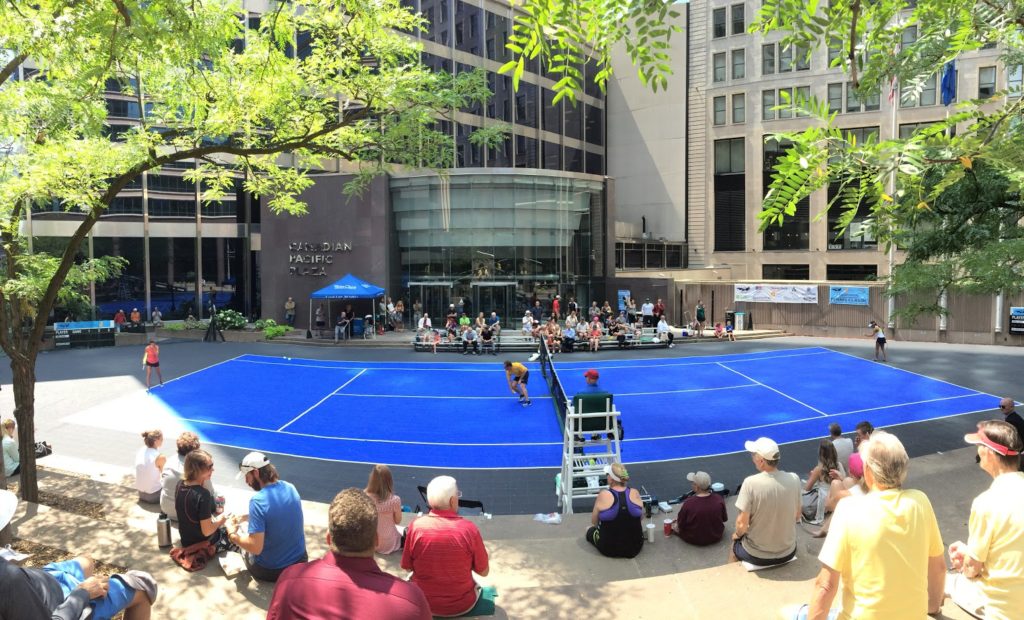 Aquatennial Tennis Classic
Two champions were crowned at the 22nd Annual USTA Northern Aquatennial Tennis Classic yesterday! Nine time champion Tony Larson won the Men's Singles title, and Alexis Nelson won the Women's Singles title. Yesterday's action featured semi-final and final matches at Canadian Pacific Plaza. Some of the top MN players have participated in the tournament that hosts men's and women's singles, men's doubles, women's doubles and mixed doubles. The tournament began on July 10th and will conclude today during the 2017 Aquatennial. This wonderful outdoor tournament located in the heart of downtown Minneapolis features a lineup of various food trucks over the lunch hour, so stop by today to grab some food and watch the conclusion of this great tennis tournament!
Thursday's Results:
Nick Beaty/Alexis Nelson def. Harsh Mankad /Michaela Schulz 6-1, 6-4
Tony Larson def. Alejandro Valarezo 6-3, 6-2
Alexis Nelson def. Diana Bukajeva 6-4, 6-0
Andres Osorio/ Sion Wilkins def. Mohaned Al Houni/ Motasam Al Houni 7-6 (5), 6-3
Sarai Flores Diaz/Blanka Szavay def. Ellie Puzak/Libby Rickeman 6-4, 6-1
Nick Crossley/Kevin Whipple def. Amrik Donkena/ Mya Smith-Dennis 6-3, 6-4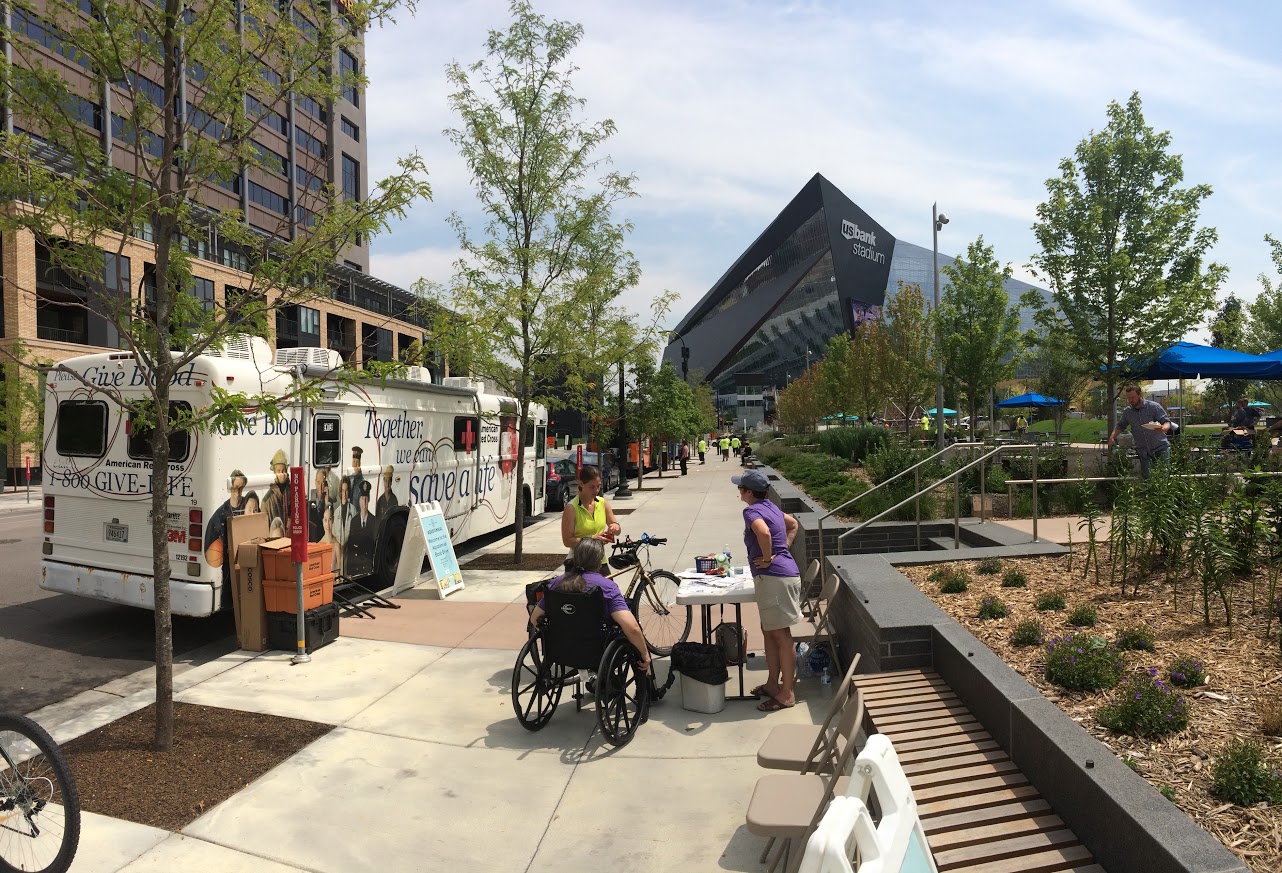 Aquatennial Blood Drive
The Aquatennial is all about bringing the community together and providing a way to give back to our community. That's why this year the Aquatennial teamed with the American Red Cross, WCCO-TV, WCCO Radio, BUZ'N 102.9 and 104.1 JACK FM to host the Aquatennial Blood Drive this week. It runs through today from 9 am to 3 pm.
Donating Blood is important in helping those in need, as the Red Cross—which supplies blood to 2,600 hospitals and transfusion centers across the country—needs 14,000 blood donations each day to keep pace. Right now, there is a major shortage of blood as donations are being used as quickly as they come in. Vacations and summer plans often play a role in keeping people from donating, so any help you can provide is much appreciated.
Thursday's Aquatennial Blood Drive took place at The Commons near Wells Fargo Towers in East Town. Thanks to those who took part and donated!