Aquatennial Blog | Wednesday, July 19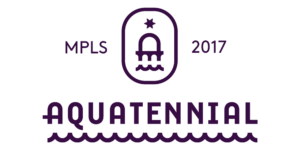 Welcome to the 2017 Aquatennial! This is our Official Civic Celebration, and we're excited to share it again with you here in Minneapolis for the 78th year. Join us on this fun four-day adventure that will include a combination of food, fitness and fun ranging from flagship events like the CenterPoint Energy Torchlight Parade to the Target Fireworks, all the way to new events like Candid Canines Film Festival and MN Made Market. There is something for everyone at this event.
So in order to fully appreciate all the events that are going on, we're giving you a daily breakdown of all the things you can see and do at the Aquatennial. Sit back and enjoy this recap as we take a look at some of the highlights from a big week in Downtown Minneapolis.
Opening day of the 2017 Aquatennial was a great one! The Best Days of Summer kicked off with a bang, featuring many different events, including the CenterPoint Energy Torchlight Parade, one of our flagship Aquatennial events.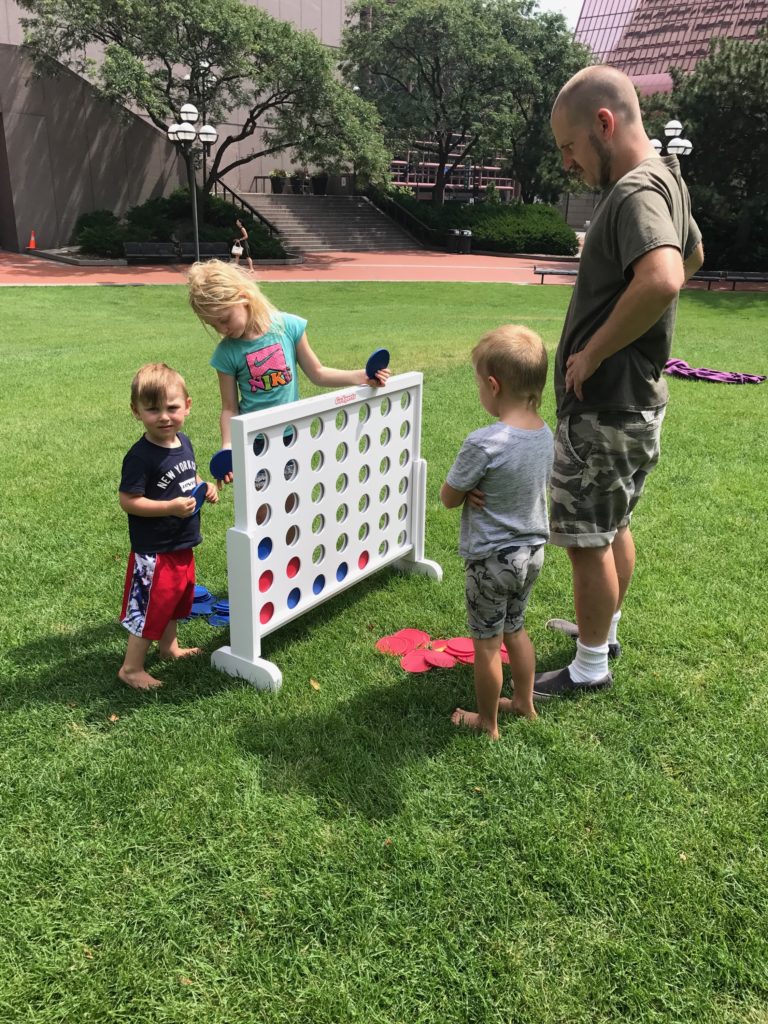 Go Outside With Hennepin County Programming at South Plaza
There was very special programming at Hennepin County Government Center South Plaza yesterday from 11:30 am-1:30 pm. We had tons of fun outdoor activities going on, including lawn games, a meditation area, an art cart, giant jenga, and more! Foxy Falafel food truck was on site for lunch, as well. The programming also inckuded a special guest, Can Do Canines! The assistant dog organization was there promoting Candid Canines Film Festival, a new Aquatennial event this year taking place on Thursday evening at Target Field Station! Can Do Canines brought a few dogs with them for everyone to pet and play with. We had a great time at South Plaza yesterday for Go Outside programming.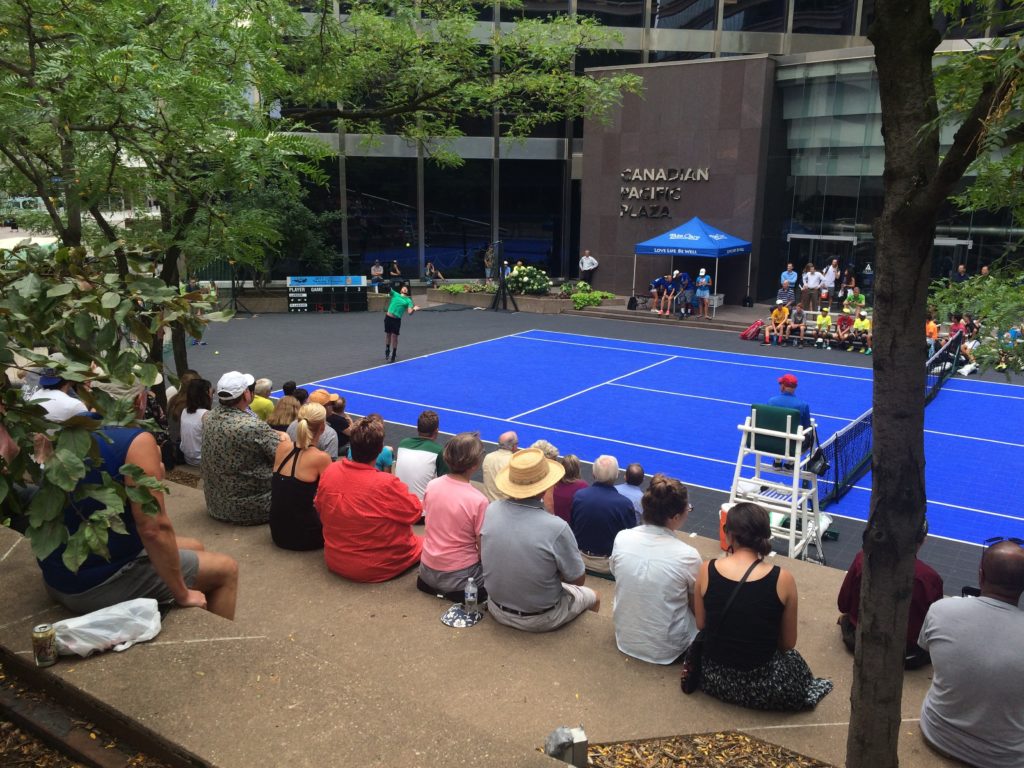 Aquatennial Tennis Classic
The 22nd Annual USTA Northern Aquatennial Tennis Classic began semi-final and final matches yesterday at Canadian Pacific Plaza. Some of the top MN players have participated in the tournament that hosts men's and women's singles, men's doubles, women's doubles and mixed doubles. The tournament began on July 10th and will conclude on Friday, July 21 during the 2017 Aquatennial. This wonderful outdoor tournament located in the heart of downtown Minneapolis features a lineup of various food trucks over the lunch hour, so stop by the next two days to grab some food and watch great tennis action!
Wednesday's Results:
Jessa Richards/Joey Richards def. Chase Johnson/Ellie Puzak 4-6, 6-2, 1-0 (7)
#1 Julia Courter/Tasha Pintusava def. Diana Bukajeva/Brenna Kelly 6-4, 6-2
#1 Alexis Nelson def. Sarai Flores Diaz 6-2, 4-6, 1-0 (5)
#1 Tony Larson def. Tim Larson 6-2, 6-1
#2 Alejandro Valarezo def. Nick Beaty 6-2, 6-3
Sarai Flores Diaz/Blanka Szavay def. Riley Ellingson/Danielle Gannon 6-4, 6-0
Ellie Puzak/Libby Rickeman def. Adele Henke/Jessa Richards 6-3, 6-3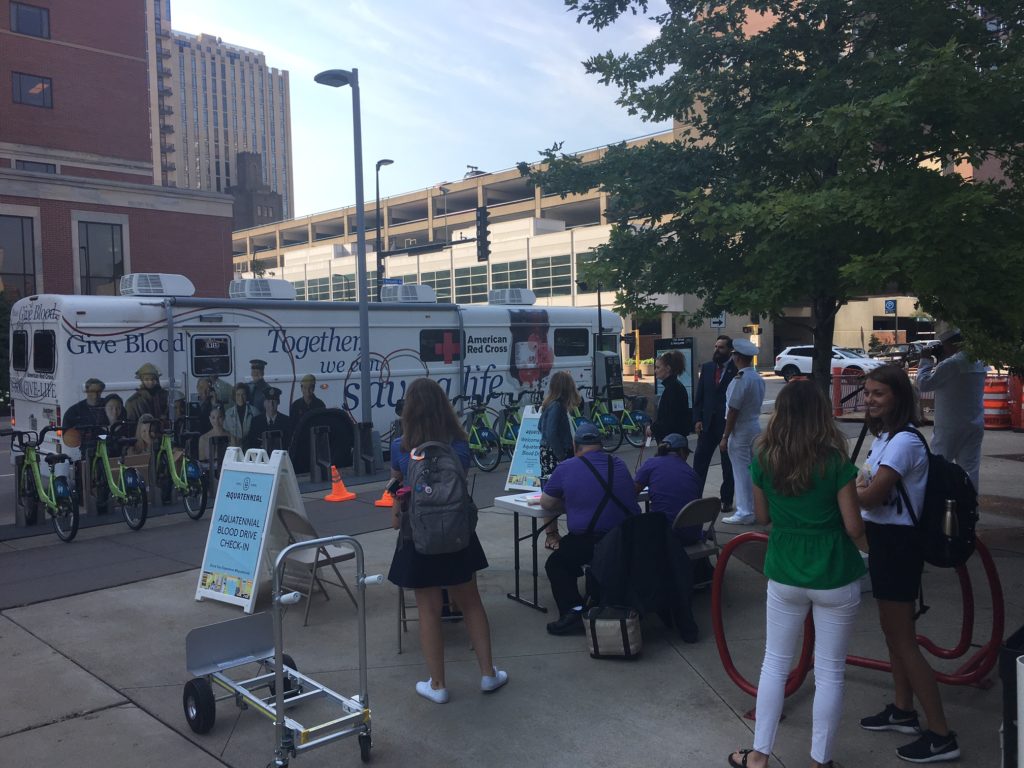 Aquatennial Blood Drive
The Aquatennial is all about bringing the community together and providing a way to give back to our community. That's why this year the Aquatennial teamed with the American Red Cross, WCCO-TV, WCCO Radio, BUZ'N 102.9 and 104.1 JACK FM to host the Aquatennial Blood Drive this week. It runs Wednesday through Friday from 9 am to 3 pm.
Donating Blood is important in helping those in need, as the Red Cross—which supplies blood to 2,600 hospitals and transfusion centers across the country—needs 14,000 blood donations each day to keep pace. Right now, there is a major shortage of blood as donations are being used as quickly as they come in. Vacations and summer plans often play a role in keeping people from donating, so any help you can provide is much appreciated.
Wednesday's Blood Drive took place at WCCO-TV. Many WCCO employees participated and donated blood, including first-time donor Jason DeRusha. WCCO also taped news segments inside the Red Cross Bloodmobile. There was a strong turnout at the first day of the Aquatennial Blood Drive, so we hope to continue that trend on Thursday at The Commons and Friday at CBS Radio.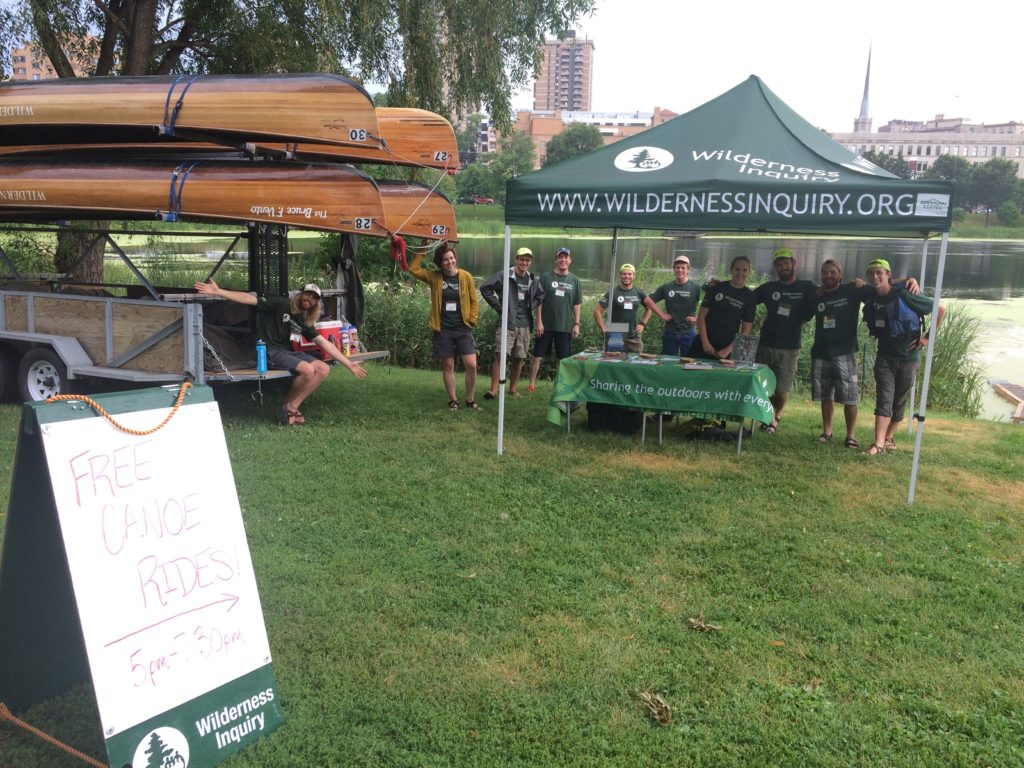 Loring Park Pre-Parade Family Fun Night
The annual Loring Park Pre-Parade Family Fun Night kicked off the evening festivities on Day 1 of the Aquatennial. It's a great neighborhood gathering event that brings people together in Loring Park, one of our largest downtown green spaces. Nestled along the pond, the event includes Wilderness Inquiry Voyageur Canoe Rides free to the public so you can get a taste of what it's like to be on the water gazing up at the downtown skyline. There were also Rally the Family tennis lessons from USTA Northern, which took place on the tennis courts in the heart of the park. Along with those two events, there were inflatable kids slides and play zones, a dance party, foods, beverages, pony rides, and more. It's an event that really brings the Loring Park community together and sets the tone for a night of fun along Hennepin Avenue.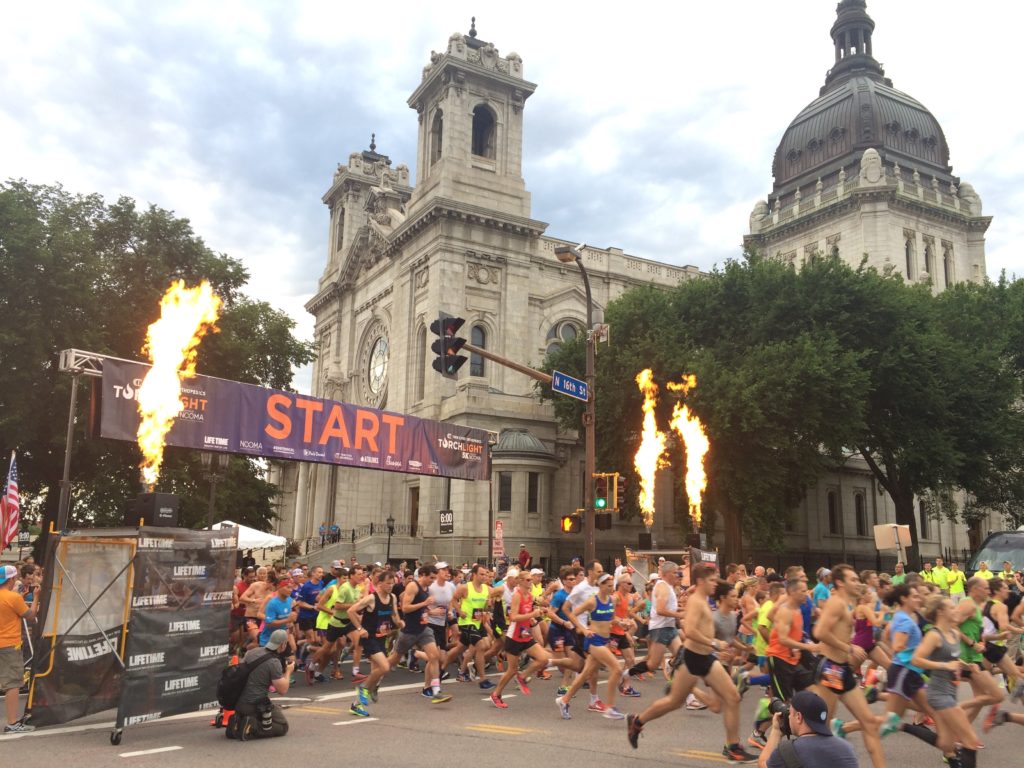 Twin Cities Orthopedics Torchlight 5K
We avoided the rain and Ran With Fire last night at the Twin Cities Orthopedics Torchlight 5K! This magnificent event took place along Hennepin Avenue beginning at 7:30 pm, just before the CenterPoint Energy Torchlight Parade. Runners and walkers took off from the Basilica of St. Mary and ended the race along the Mississippi Riverfront. Once completed, participants were able to enjoy a post-race party with food, beverages and entertainment. Thanks to all who participated in another great fitness event during Aquatennial—kicking off four days of activity during our Official Civic Celebration.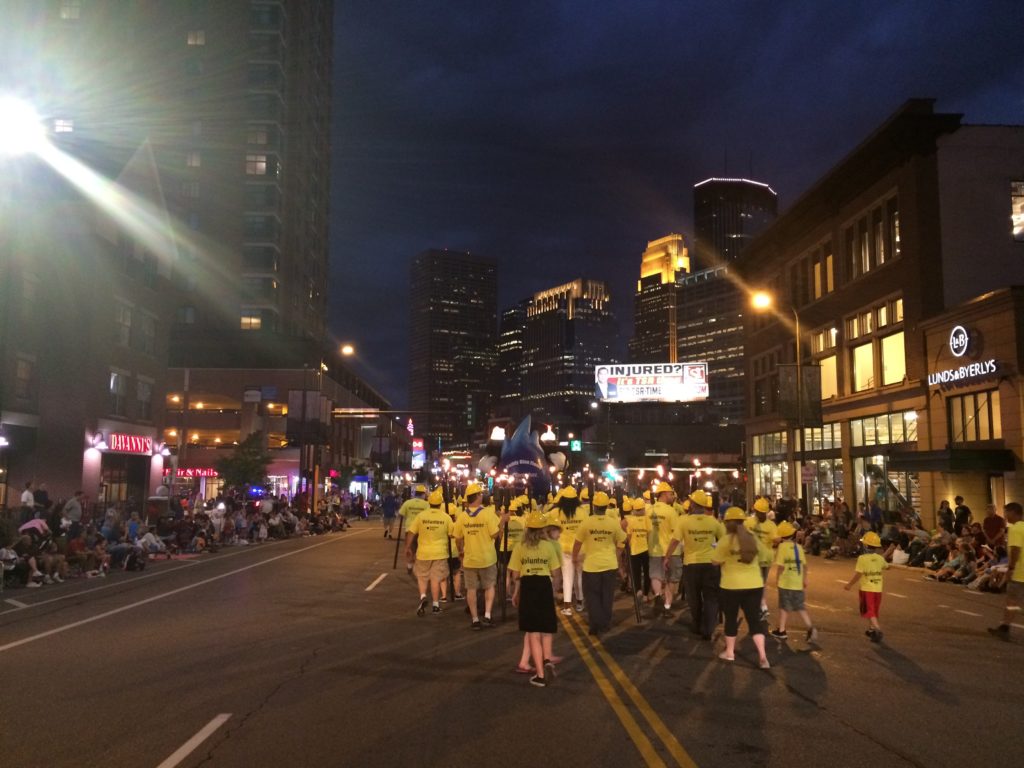 CenterPoint Energy Torchlight Parade
Despite multiple inclement weather concerns, the skies cleared to make for a beautiful night at the CenterPoint Energy Torchlight Parade last night. The Aquatennial flagship event began at 8:30 pm near Basilica of St. Mary and ran along Hennepin avenue. Crowds amassed along Hennepin for the largest nighttime parade in the state of Minnesota early to grab their spots along the parade route. The parade featured new University of Minnesota Football Head Coach P.J. Fleck and his family as Grand Marshal, which was one of the top highlights of the entire evening.
The 2017 CenterPoint Energy Torchlight Parade featured over 80 units. The parade included law enforcement and public safety groups, various local local high school bands, Aquatennial Ambassadors and royalty, multiple University of Minnesota participants, AquaJesters, and a whole lot more!
We thank our sponsor CenterPoint Energy and everyone else who made this wonderful Aquatennial event possible last night. Thank you for coming out to enjoy the CenterPoint Energy Torchlight Parade!