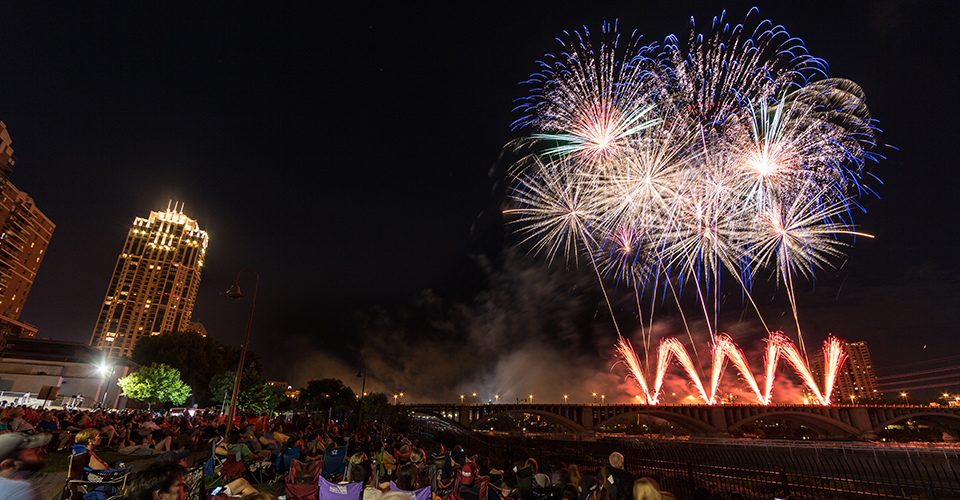 Join us for the Target Fireworks, set to take place Saturday, July 22, 2017 at 10:00 pm. One of the country's largest annual fireworks displays. Watch the Target Fireworks light up the Minneapolis sky! Come early for Aquatennial Pre-Fireworks Festivities beginning at 6 pm and enjoy food trucks, your favorite festival treats, live music and much more. A full schedule of the pre-fireworks festivities and music lineup will be announced soon.
Viewing Tips
Come early to get your viewing spot—bring sunscreen for the afternoon and bug spray for the evening. The best spots are between Gold Medal Park and the 3rd Avenue Bridge on West River Parkway. It's not unusual for people to begin staking out their spots along the Mississippi Riverfront in the morning, so to ensure your best viewing location be sure to head downtown with time to spare!
Part of the experience is enjoying the music that accompanies the Target Fireworks, which are choreographed and synced together. Tune into Go 96.3 FM and enjoy the simulcast of music set to the Target Fireworks display! Learn more about the Target Fireworks below in our "Fast Facts."
While you're waiting for the Target Fireworks and the pre-fireworks festivities to begin, don't miss out on other Aquatennial events that are taking place along the Mississippi Riverfront. Twin Cities CariFest is approximately 1.5 miles up the road, a leisurely walk or bike ride away. Take a stroll and enjoy an afternoon out and about in Minneapolis while enjoying multiple Aquatennial events!
While you're there
Enjoy a show, tour or walk on the Endless Bridge at the Guthrie Theater, learn about Minneapolis' history at the Mill City Museum, enjoy a morning at the Mill City Farmers Market or a leisurely afternoon at Gold Medal Park. Stop by Stone Arch Bridge and see some of the best views of our downtown skyline. Stop by and see U.S. Bank Stadium up close, which is now complete.
Pre-Fireworks Festivities from 6 pm-10 pm always have a great lineup. Check back as we get closer to July 2017 for the full lineup for this year's event. Last year's lineup included:
Live Music

Food Trucks

Kids Zone
Arriving
The Target Fireworks optimal viewing area is just blocks away from the METRO Light Rail U.S. Bank Stadium station in East Town, which services both the Blue Line from Bloomington and the Green Line from St. Paul. There are also surface and ramp parking locations located off 2nd Street, 4th Street and Chicago Avenue. You can also enjoy Nice Ride bikes located at convenient stations around the downtown area. Click Here to find the the most convenient Nice Ride station.
Target Fireworks Fast Facts
Typically uses more than 10,000 pounds of explosives
The Choreography process for the Target Fireworks takes anywhere from 2 to 4 hours of design time per minute of total show duration
One of the top five largest fireworks show in the country
Draws around 250,000 spectators to Downtown Minneapolis
Come early to find a spot along the river—bring sunscreen for the afternoon and bug spray for the evening. It's worth it to see a fantastic show!
One of the best vantage points to take in the show is on the west side of the Mississippi River, along West River Parkway near Portland Avenue.
Zambelli Fireworks is a full service fireworks display and pyrotechnics company.
Since 1893 Zambelli Fireworks has been shooting over 2,300 displays annually