Aquatennial Blog | Wednesday, July 20

Welcome to the 2016 Aquatennial! This is our Official Civic Celebration, and we're excited to share it again with you here in Minneapolis for the 77th year. Join us on this fun four-day adventures that will include a combination of food, fitness and fun ranging from flagship events like the CenterPoint Energy Torchlight Parade to the Target Fireworks all the way to new events like Mess Hall, AquaJam and the Big Waters Classic: Fulton Downtown Drag Race. There is something for everyone at this event.
So in order to fully appreciate all the events that are going on, we're giving you a daily breakdown of all the things you can see and do at the Aquatennial. Sit back and enjoy this recap as we take a look at some of the highlights from a big week in Downtown Minneapolis.

Historic Aquatennial Presented By Cambria | Cambria All-American Grill-Out
Now in its second year in the Aquatennial lineup, the Historic Aquatennial presented by Cambria is a great way to relive some of the past experiences and looks of the Minneapolis Aquatennial. This event, located in the Cambria on 7th Gallery at 625 2nd Avenue South, highlights some of the sights and sounds of Aquatennial over the past seven decades. There are great photos, videos, apparel and costumes, decorations, poster boards with historical context stories, a full Skipper Pin collection, guides and more. This particular event runs Wednesday through Saturday at Cambria, so come in any day and enjoy.
One addition this year was the Cambria All-American Grill-Out, which took place from 11:30 am – 2 pm right inside Cambria on 7th next to the Historic Aquatennial gallery. A great crowd stopped by to take in the display while enjoying hot dogs, chips, beverages and other treats as a way to kickoff Aquatennial here in the heart of Minneapolis. Be sure to stop by Cambria on 7th if you haven't before. It's located on the first level of the WCCO Radio building, and it is a great event space that offers a look at Cambria's countertops while providing great hospitality amenities.

Aquatennial Blood Drive
The Aquatennial is all about bringing the community together and providing a way to give back to our community. That's why this year the Aquatennial teamed with the American Red Cross, WCCO-TV, WCCO Radio, BUZ'N 102.9 and 104.1 JACK FM to host the Aquatennial Blood Drive this week. It runs Wednesday through Friday from 9 am to 3 pm in the IDS Center Crystal Court.
Donating Blood is important in helping those in need, as the Red Cross—which supplies blood to 2,600 hospitals and transfusion centers across the country—needs 14,000 blood donations each day to keep pace. Right now, there is a major shortage of blood as donations are being used as quickly as they come in. Vacations and summer plans often play a role in keeping people from donating, so any help you can provide is much appreciated.
We kicked off the Blood Drive on Wednesday with a media segment on-site. WCCO's Mike Augustyniak, who was one of our CenterPoint Energy Torchlight Parade grand marshals, was on site to discuss the blood drive and let people know that it's going on. We're hopeful that those who live, work and visit the downtown community will come by and help make a difference. It truly is an important giveback that can play a big role in someone's return to health.
Aquatennial Tennis Classic
The Aquatennial Tennis Classic is an annual gathering of some of the top talent in the area vying for $6,500 in prize money. Supported by USTA Northern, they host men's and women's singles, men's doubles, women's doubles and mixed doubles each year. The event is incredibly popular in the summer. Located at Canadian Pacific Plaza, a court is placed outdoors underneath the surrounding skyscrapers and provides a great place to watch tennis while eating your lunch. Food trucks line the nearby street, and a natural tiered gallery area makes for stadium seating while you take your lunch break.
The tournament began July 11 and runs through Friday, July 22. On the first official day of Aquatennial, the tournament was working through some of its semifinals matchups. Results from the day are listed below.
Wednesday's Results
Niltooli Wilkins/Nazhone Wilkins def. Ben Davis/Kelli Howard 6-3, 6-2
Helen Klass Warch/Maalik DeFreitas def. Natalia Pintusava/John Pratt 4-6, 6-3, 1-0
Tony Larson def. Nic Edlefsen 6-4, 2-6 1-0 (8)
Caitlyn Merzbacher def. Alexis Nelson 6-2, 6-1
Tim Larson def. Tobias Wernet 6-4, 2-6, 1-0 (8)
Maja Vujic def. Diana Bukajeva 6-4, 3-6, 1-0 (9)
Diana Bukajeva/Brenna Kelly def. Helen Klass Warch/Caren Seenauth 6-0, 6-4
Nick Crossley/Kevin Whipple def. Reven Stephens/Jack Hamburg 6-1, 6-0
Thursday's Order of Play
8:30 a.m. – Helen Klass-Warch/Maalik Konop-DeFrietas vs. Nicole Copeland/Kevin Whipple
10:00 a.m. – Caitlyn Merzbacher vs. Maja Vujic
12:00 p.m. – Tony Larson vs. Tim Larson
1:30 p.m. – Julian Dehn/Tobias Wernet vs. Wyatt McCoy/Harsh Mankad
3:00 p.m. – Andres Osorio/Sion Wilkins vs. Kevin Whipple/Nick Crossley
4:15 p.m. – Tooli Wilkins/Nazhone Wilkins vs. Jeff Adolf/Kelsey Frechette
5:30 p.m. – Maja Vujic/Aria Lambert vs. Tooli Wilkins/Kelsey Frechette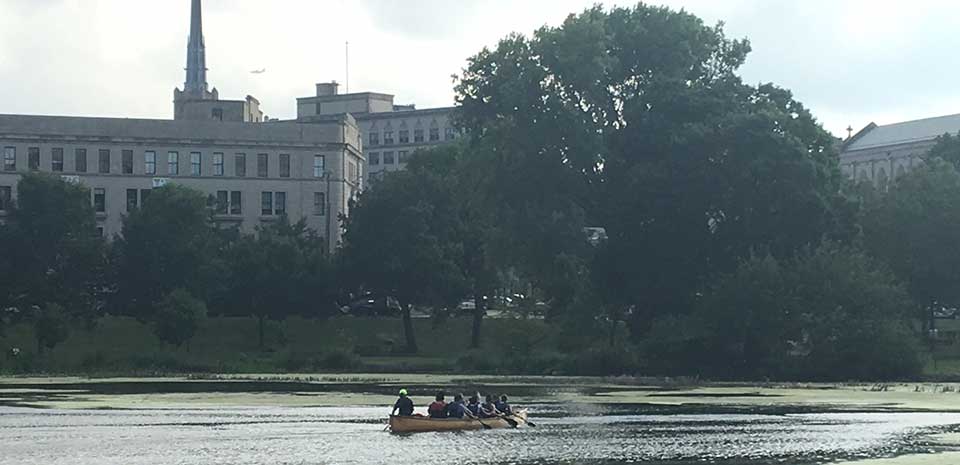 Loring Park Pre-Parade Family Fun Night | Wilderness Inquiry Voyageur Canoe Rides | Rally the Family
The annual Loring Park Pre-Parade Family Fun Night kicked off the evening festivities on Day 1 of the Aquatennial. It's a great neighborhood gathering event that brings people together in Loring Park, our largest downtown green space. Nestled along the pond, the event includes Wilderness Inquiry Voyageur Canoe Rides free to the public so you can get a taste of what it's like to be on the water gazing up at the downtown skyline. There were also Rally the Family tennis lessons from USTA Northern, which took place on the tennis courts in the heart of the park. Along with those two events, there were inflatable kids slides and play zones, a dance party, foods, beverages, pony rides, putt-putt golf and more. It's an event that really brings the Loring Park community together and sets the tone for a night of fun along Hennepin Avenue.
Twin Cities Orthopedics Torchlight 5K
The Twin Cities Orthopedics Torchlight 5K is an annual favorite that exemplifies the food, fitness and fun component of the Minneapolis Aquatennial. Though the weather was hot, the Torchlight 5K runners pulled through in a "fun run" style participation. People were encouraged to drink plenty of water and take it easy during the event, which began at the Basilica of St. Mary and ran up to and along the Mississippi Riverfront. Once completed, runners were able to enjoy a post-race party with food, beverages and entertainment. WCCO-TV's Kim Johnson took part in the run and braved the heat. Thanks to all who participated in another great fitness event during Aquatennial—kicking off four days of activity during our Official Civic Celebration.

CenterPoint Energy Torchlight Parade
The culmination of Wednesday's Aquatennial events took place at the CenterPoint Energy Torchlight Parade. Approximately 90 floats and entrants marched down Hennepin Avenue from the Basilica of St. Mary to 5th Street in celebration of summer and community here in the heart of downtown. WCCO-TV's Mike Augustyniak and Natalie Nyhus were this year's Grand Marshals, and they led the way for Minnesota's largest nighttime parade. They also did a big meet & greet with parade VIPs leading up to the parade. K102's Chris Carr & Company returned for the second year and was the 2016 emcee group, and an incredible flyover started this year's parade right above the Basilica of St. Mary.
Among those taking part in this year's CenterPoint Energy Torchlight Parade included law enforcement like the Minneapolis Police Department and Hennepin County Sheriff's Office, Minneapolis City Council members led by City Council President Barbara Johnson, many local high school bands, Aquatennial ambassadors, local sports teams, the famous AquaJesters and Art Cars, Keys 4/4 Kids with Nicholas David, and a collection of Sister Cities.
One of the highlights of the Sister Cities program was Tours France:
MAYOR SERGE BABARY AND DELEGATION

 In honor of the 25th anniversary of Minneapolis and Tours, France as Sister Cities, Mayor Serge Babary and a group of 10 delegates from Tours have joined us to celebrate this relationship between our cities. The group arrived on July 16th and attended the Minneapolis Sister Cities Day Celebration on Nicolet Island, as well as met with various members of the Minneapolis community with similar jobs/interests such as parks and nature, arts and culture, events, and sports.
Thank you to CenterPoint Energy for being a great sponsor and supporter for the Minneapolis Aquatennial and its CenterPoint Energy Torchlight Parade. A special thanks to CenterPoint Energy division vice president of gas operations in Minnesota Brad Tutunjian and corporate communications' Becca Virden for being part of the emcee stand and helping deliver messaging about the parade and the company's year-round community involvement.