Join Us For The CenterPoint Energy Torchlight Parade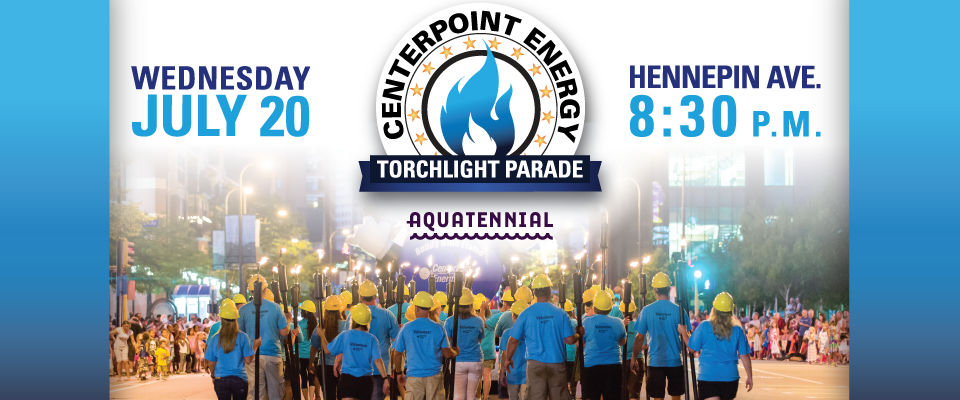 The CenterPoint Energy Torchlight Parade will be held Wednesday, July 20 from 8:30 p.m.-10:30 p.m. As one of the biggest and brightest parades in the state and a Minneapolis Aquatennial flagship event, this one-of-a-kind display will light up Downtown Minneapolis with a procession of bands and entertainment units marching down Hennepin Avenue.
This year's parade will feature WCCO-TV's Mike Augustyniak and Natalie Nyhus as its Grand Marshals, as the parade takes place on Hennepin Avenue from the Basilica of St. Mary to 5th Street. The CenterPoint Energy Torchlight Parade will emceed by K102 FM's Chris Carr & Company morning crew for the second straight year.
"The company couldn't feel more privileged to sponsor the 77th annual CenterPoint Energy Torchlight Parade for the 16th consecutive year," said Brad Tutunjian, division vice president of Gas Operations in Minnesota. "Our generous employees are proud to live, work and volunteer in the communities that the company serves every day. To show our pride and appreciation for our customers and communities we serve, the company would like to invite all to share in the excitement at the CenterPoint Energy Torchlight Parade with our employees and their families on July 20."
The Grand Marshal float will once again be well-represented at the CenterPoint Energy Torchlight Parade. Mike is the weekend morning meteorologist at WCCO-TV. He also created and hosts "Mike's Mix", a weekly segment focusing on the art and science behind making the perfect cocktail. He has been recognized with multiple Emmy Awards for Broadcast excellence.
Natalie is the host of WCCO-TV's Saturday Mornings show and highlights some of the state's top gems in the "Best of Minnesota" series. She studied broadcast journalism, print journalism and theology at the University of St. Thomas in Saint Paul, Minn., and got her start as a sports reporter for Fox Sports North and the Big Ten Network.
The Aquatennial has partnered with the City of Minneapolis to bring Tap Minneapolis water fountains to the CenterPoint Energy Torchlight Parade. These water stations will be available on Hennepin Avenue at 6th Street, 9th Street, 11th Street and Laurel Avenue. Attendees are encouraged to bring their own water bottles to the event and utilize the many fountains along the parade route for refills. CenterPoint Energy will also be giving away a special surprise at 6th, 7th, 8th and 9th streets following the parade.
The parade will feature CenterPoint Energy's Buddy Blue Flame, marching bands, Minneapolis Aqua Jesters and more. Arrive early for the event and secure your spot along Hennepin Avenue as spaces fill up quickly. You can also arrive downtown on Wednesday night with a Free Ride Pass from Metro Transit. Passes are available for download on Aquatennial.com, and when printed out and presented on site they are good for free rides from 6:30 pm to 11:30 pm.
While you're enjoying Aquatennial on Wednesday, attend Loring Park Pre-Parade Family Fun Night from 5 p.m. – 7:30 p.m. featuring pony rides, inflatables, canoe rides, a kids' dance, carnival games, Wilderness Inquiry Voyageur Canoe Rides, Rally the Family tennis lessons and more. Following Loring Park Family Fun Night will be the Twin Cities Orthopedics Torchlight 5K. Watch as thousands of runners take off down Hennepin Avenue beginning at 7:30 p.m.
For more information, please visit www.Aquatennial.com or follow our @Aquatennial accounts on Facebook, Twitter and Instagram using the hashtag #Aquatennial.