Carifest Recipes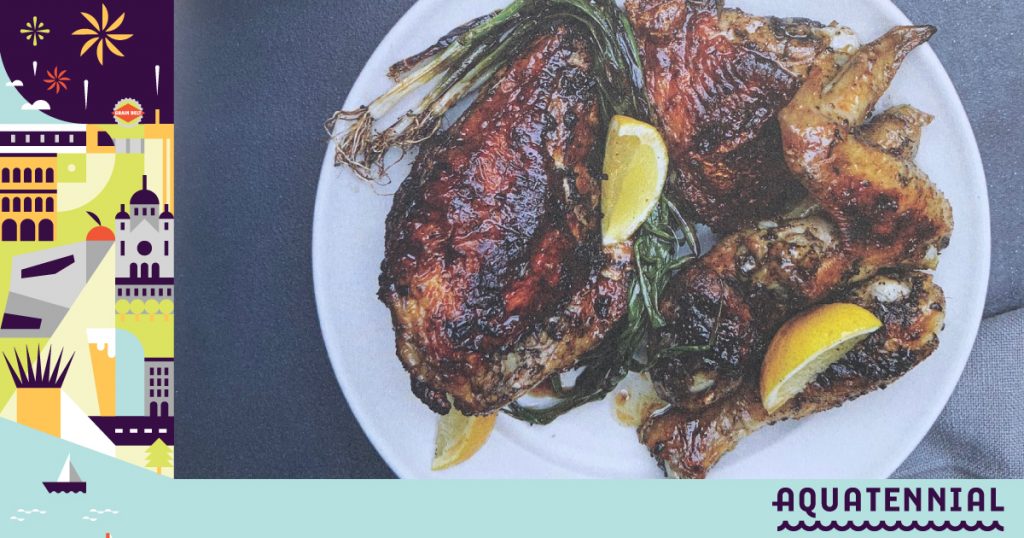 The Carifest organizers shared some of their favorite recipes with Aquatennial. Check out some of these incredible dishes and offerings as you celebrate the 2020 Aquatennial.
Jerk Chicken
Ingredients
1 whole chicken, separated into pieces
2 Scotch bonnet peppers, seeds removed
1 tablespoon salt, or to taste
1 teaspoon black pepper, freshly ground
1 teaspoon allspice
1 teaspoon nutmeg
4 cloves garlic
1 ½ teaspoon thyme, dried
1 teaspoon fresh thyme
½ cup scallions, chopped
1 tablespoon coconut oil
1 lemon, sliced into 4-6 pieces
Preparation
Set chicken aside
Using food processor, blend remaining ingredients into a paste (except for lemon slices)
Rub all over chicken
Grill chicken over medium or medium-high heat for 5-6 minutes on each side or until thoroughly cooked
Serve with lemon slices
—
Jamaican Dumplings
Ingredients
4 cups all-purpose flour
2 teaspoons baking powder
1 ½ teaspoons salt
1 tablespoons butter
½ cup cold water
Olive oil, vegetable oil, or grape-seed oil for frying, enough to fill skillet halfway
Preparation
Combine dry ingredients into a large bowl. Stir butter until flour mixture is in crumbles no longer than peas.
Mix in water 1 tablespoon at a time, just until the mixture is wet enough to form into a ball. The dough should have a firm consistency. Knead briefly and let rest for 5-10 minutes.
Heat oil in a large, heavy skillet over medium heat until hot. Break off pieces of dough and shape into patties—similar to flat biscuits.
Place just enough of the dumplings in the pan so they are not crowded.
Fry on each side until golden brown, about 3 minutes per side.
Remove from pan and drain on paper towels before serving.
—
Frittata
Ingredients
1 garlic clove, minced
¼ cup onions, chopped
1 tablespoon olive oil or coconut oil
½ cup freshly chopped tomato
¾ cup fresh spinach, torn into large pieces
3 whole eggs, plus 2 egg whites (or egg substitution of your choosing)
¼ cup whole milk
¼ teaspoon sea salt
1/3 cup finely chopped basil leaves
½ cup feta cheese
Apple Cider Dressing
Apple cider vinegar, like Bragg Apple Cider Vinegar
Olive Oil
Salt and pepper, to taste
Optional: add minced garlic and shallots
or Simple Lemon Dressing
1 lemon, juice
3 cloves garlic, minced
4-5 tablespoons of extra-virgin olive oil
Salt and pepper, to taste
Pinch of red pepper flakes
Preparation
Preheat oven to 350 degrees F
In cast-iron skillet, sauté garlic and onions in olive oil or coconut oil until onion is soft
Add tomatoes and spinach, allowing spinach to wilt
In a large bowl, whisk eggs, egg whites, milk, salt and pepper together
After whisking, add egg mixture and chopped basil to the pan
Sprinkle with feta cheese
When edges of frittata start to firm against pan, remove from stovetop and plan in oven until fully cooked, about 10 minutes
Serve with side salad and apple cider vinaigrette or simple lemon dressings
For apple cider and simple lemon salad dressings, mix all ingredients and whisk until combined. From cider dressing, desired yield is 1 part vinegar and 2 parts olive oil
Optional: you can also make individual servings in ramekins.
—
Brown Rice and Salmon Bowl
Ingredients
1 salmon fillet (1 pound)
1 head cauliflower, florets quartered, cut into bite-size pieces
1 whole leek (discard outer layer, then clean and slice)
Olive oil for drizzling, plus 1 tablespoon for sautéing
Salt and pepper, to taste
Cumin, to taste
1 bunch beet greens, julienned, stems removed
1 clove garlic, minced
2 tablespoons coconut oil
3 cups cooked brown rice
½ avocado
Preparation
Preheat oven to 375 degrees F
Spread cauliflower and leeks on roasting pan, drizzle with olive oil, salt, pepper, cumin
Roast for 40 minutes, loosening cauliflower with wooden spoon halfway through to prevent sticking
Salt salmon, divide into 3 pieces, set aside
Saute beet greens in olive oil, add minced garlic
Cook salmon in a frying pan with coconut oil until pink in the middle
Scoop cooked brown rice into bowl, cover with roasted cauliflower and leeks
Place salmon and beet greens on top
Open avocado and slice lengthwise into pieces for garnish
—
Caribbean Salsa
Ingredients
1 cup fresh, firm mango, diced
1 cup fresh pineapple, diced
Optional: 1 cup fresh, firm papaya, diced
¼ cup fresh jalapeno, minced and seasoned, or to taste
¼ cup red onion, minced
3 tablespoons fresh lime juice
½ tablespoon salt, kosher or sea
1 tablespoon freshly chopped cilantro
1 cup firm Roma tomatoes, diced and seeded
¼ cup cucumber, diced and seeded
Hempseed
Preparation
Combine all ingredients in a bowl and generously sprinkle hempseed before serving
Enjoy with chips and fresh green salad
—
Pineapple Lemongrass Cooler
Ingredients
½ ripe pineapple
2 bananas
½ cup (120ml) water
Three 4-inch (10cm) pieces of lemongrass
Simple Syrup
¼ cup (60ml) vodka, optional
Preparation
Place the pineapple, bananas. Water, and lemongrass in a blender and blend on high until smooth. Strain through cheesecloth. Taste and add simple syrup, if necessary. Stir in the optional vodka. Serve on the rocks.
—
Creole Sauce
Ingredients
¼ cup plus 2 tablespoons (85g) vegan margarine
6 tomatoes, thinly sliced
2 onions, thinly sliced
4 garlic cloves, chopped
1 teaspoon black pepper
1 teaspoon mild paprika
1 teaspoon Madras curry powder
2 cups (480ml) water
2 teaspoons tomato paste
2 teaspoons onion powder
1 ½ to 2 teaspoons pink or sea salt, or to taste
1 to 2 teaspoons Bajan Pepper Sauce
1 teaspoon commercial pepper sauce with ½ teaspoon American-style mustard
1 teaspoon minced fresh parsley
Preparation
Heat the margarine in a large saucepan over low heat. Add the tomatoes and onions and sauté until the tomatoes begin to release their juice and the onions start to become translucent
Add the garlic, raise the heat to medium, and cook for 3 minutes
Sirin the pepper, paprika, and curry powder, then sir in the water and tomato paste. Cook for 5 minutes, stirring occasionally.
Stir in the onion powder, salt, pepper sauce, and parsley. Serve hot.
—
Plantain Balls
Ingredients
1 overripe plantain
2 tablespoons chopped Holiday "Ham"
½ teaspoon ground cinnamon
1/8 teaspoon cayenne pepper
¼ cup (30g) medium breadcrumbs
1 tablespoon nutritional yeast flakes
1 tablespoon wheat germ
¼ teaspoon pink or sea salt
Large pinch of mild paprika
Preparation
Preheat the oven to 400°F (200°C) and grease a baking sheet.
Mash the plantain. Sir in the vegan ham, cinnamon, and cayenne. Separately, combine the breadcrumbs, nutritional yeast, wheat germ, salt, and paprika and mix well. Put the bread crumb mixture on a plate.
Roll the plantain mixture into walnut-sized balls using a heaping teaspoon to portion out the mixture. Roll them in the breading to coat evenly, and place on the prepared baking sheet. Bake 20-25 minutes, until golden brown, turning once during the cooking process.
—
Curry Sauce
Ingredients
2 tablespoons vegan margarine
½ onion, minced
1 to 2 tablespoons mince celery
1 small bay leaf
1 tablespoon Madras curry powder
1 tablespoon fine cornmeal or corn flour
1/3 cup (80 ml) water
½ teaspoon pink or sea salt
¼ teaspoon ground ginger
1 ½ teaspoons fresh lime juice
Preparation
Heat the margarine in a small saucepan over medium heat. Add the onion, celery, and bay leaf, turn the heat down to medium-low, and sauté for about 5 minutes, until the onion is translucent.
Add the curry powder, cornmeal, and water and whisk briskly. Stir in the salt and ginger, raise the heat to medium, and cook for 4 minutes, stirring occasionally, until the sauce is slightly thick. Remove from the heat and stir in the lime juice.